Book Releases February 2021
I am so glad publishing seems to be getting back to normal. It's been a while since I had such an easy time finding 5 or more books to show to you that I was looking forward to in one month. Here are my picks for February 2021.
Girl A by Abigail Dean
The Project by Courtney Summers
A Court of Silver Flames (A Court of Thorns and Roses #4) by Sarah J. Maas
The Desolations of Devil's Acre (Miss Peregrine's Peculiar Children #6) by Ransom Riggs
The Initial Insult (The Initial Insult #1) by Mindy McGinnis
A History of What Comes Next (A History of What Comes Next #1) by Sylvain Neuvel

Girl A by Abigail Dean (February 2)
Synopsis

"'Girl A, ' she said. 'The girl who escaped. If anyone was going to make it, it was going to be you.'"

Lex Gracie doesn't want to think about her family. She doesn't want to think about growing up in her parents' House of Horrors. And she doesn't want to think about her identity as Girl A: the girl who escaped, the eldest sister who freed her older brother and four younger siblings. It's been easy enough to avoid her parents–her father never made it out of the House of Horrors he created, and her mother spent the rest of her life behind bars. But when her mother dies in prison and leaves Lex and her siblings the family home, she can't run from her past any longer. Together with her sister, Evie, Lex intends to turn the House of Horrors into a force for good. But first she must come to terms with her siblings – and with the childhood they shared.

What begins as a propulsive tale of escape and survival becomes a gripping psychological family story about the shifting alliances and betrayals of sibling relationships–about the secrets our siblings keep, from themselves and each other. Who have each of these siblings become? How do their memories defy or galvanize Lex's own? As Lex pins each sibling down to agree to her family's final act, she discovers how potent the spell of their shared family mythology is, and who among them remains in its thrall and who has truly broken free.
I've been interested in books about cults and similar things for a while now and I am hoping Girl A will keep my interest. I hope it is well written and gives me creepy feelings like the synopsis is giving me.
---
The Project by Courtney Summers (February 2)
Synopsis

Lo Denham is used to being on her own. After her parents died, Lo's sister, Bea, joined The Unity Project, leaving Lo in the care of their great aunt. Thanks to its extensive charitable work and community outreach, The Unity Project has won the hearts and minds of most in the Upstate New York region, but Lo knows there's more to the group than meets the eye. She's spent the last six years of her life trying—and failing—to prove it.

When a man shows up at the magazine Lo works for claiming The Unity Project killed his son, Lo sees the perfect opportunity to expose the group and reunite with Bea once and for all. When her investigation puts her in the direct path of its leader, Lev Warren and as Lo delves deeper into The Project, the lives of its members it upends everything she thought she knew about her sister, herself, cults, and the world around her—to the point she can no longer tell what's real or true. Lo never thought she could afford to believe in Lev Warren . . . but now she doesn't know if she can afford not to.
I have never read anything by Courtney Summers, but I have heard good things. I do like the synopsis of The Project though so I am hoping this will be a great novel.
---
A Court of Silver Flames (A Court of Thorns and Roses #4) by Sarah J. Maas (February 16)
Synopsis

Nesta Archeron has always been prickly-proud, swift to anger, and slow to forgive. And ever since being forced into the Cauldron and becoming High Fae against her will, she's struggled to find a place for herself within the strange, deadly world she inhabits. Worse, she can't seem to move past the horrors of the war with Hybern and all she lost in it.

The one person who ignites her temper more than any other is Cassian, the battle-scarred warrior whose position in Rhysand and Feyre's Night Court keeps him constantly in Nesta's orbit. But her temper isn't the only thing Cassian ignites. The fire between them is undeniable, and only burns hotter as they are forced into close quarters with each other.

Meanwhile, the treacherous human queens who returned to the Continent during the last war have forged a dangerous new alliance, threatening the fragile peace that has settled over the realms. And the key to halting them might very well rely on Cassian and Nesta facing their haunting pasts.

Against the sweeping backdrop of a world seared by war and plagued with uncertainty, Nesta and Cassian battle monsters from within and without as they search for acceptance-and healing-in each other's arms.
It has been such a long time since I read A Court of Thorns and Roses, but I did like the series. I am curious where Sarah J. Maas is taking the series in this new instalment, but I guess we will see.
---
The Desolations of Devil's Acre (Miss Peregrine's Peculiar Children #6) by Ransom Riggs (February 23)
Synopsis

The last thing Jacob Portman saw before the world went dark was a terrible, familiar face.

Suddenly, he and Noor are back in the place where everything began – his grandfather's house. Jacob doesn't know how they escaped from V's loop to find themselves in Florida. But he does know one thing for certain: Caul has returned.

After a narrow getaway from a blood-thirsty hollow, Jacob and Noor reunite with Miss Peregrine and the peculiar children in Devil's Acre. The Acre is being plagued by desolations – weather fronts of ash and blood and bone – a terrible portent of Caul's amassing army.

Risen from the Library of Souls and more powerful than ever, Caul and his apocalyptic agenda seem unstoppable. Only one hope remains – deliver Noor to the meeting place of the seven prophesied ones. If they can decipher its secret location.
I am sort of done with The Miss Peregrine books, but I can't read them. They were a very important part of my reading life and I do hope Ransom brings the series with The Desolations of Devil's Acre to a worthy end.
---
The Initial Insult (The Initial Insult #1) by Mindy McGinnis (February 23)
Synopsis

Welcome to Amontillado, Ohio, where your last name is worth more than money, and secrets can be kept… for a price.

Tress Montor knows that her family used to mean something—until she didn't have a family anymore. When her parents disappeared seven years ago while driving her best friend home, Tress lost everything. She might still be a Montor, but the entire town shuns her now that she lives with her drunken, one-eyed grandfather at what locals refer to as the "White Trash Zoo," – a wild animal attraction featuring a zebra, a chimpanzee, and a panther, among other things.

Felicity Turnado has it all – looks, money, and a secret that she's kept hidden. She knows that one misstep could send her tumbling from the top of the social ladder, and she's worked hard to make everyone forget that she was with the Montors the night they disappeared. Felicity has buried what she knows so deeply that she can't even remember what it is… only that she can't look at Tress without having a panic attack.

But she'll have to.

Tress has a plan. A Halloween costume party at an abandoned house provides the ideal situation for Tress to pry the truth from Felicity – brick by brick – as she slowly seals her former best friend into a coal chute. With a drunken party above them, and a loose panther on the prowl, Tress will have her answers – or settle for revenge.
I really enjoyed Mindy McGinnis' Female of the Species a lot. I hope The Initial Insult will be as witty and interesting as her previous book.
---
A History of What Comes Next (A History of What Comes Next #1) by Sylvain Neuvel (February 23)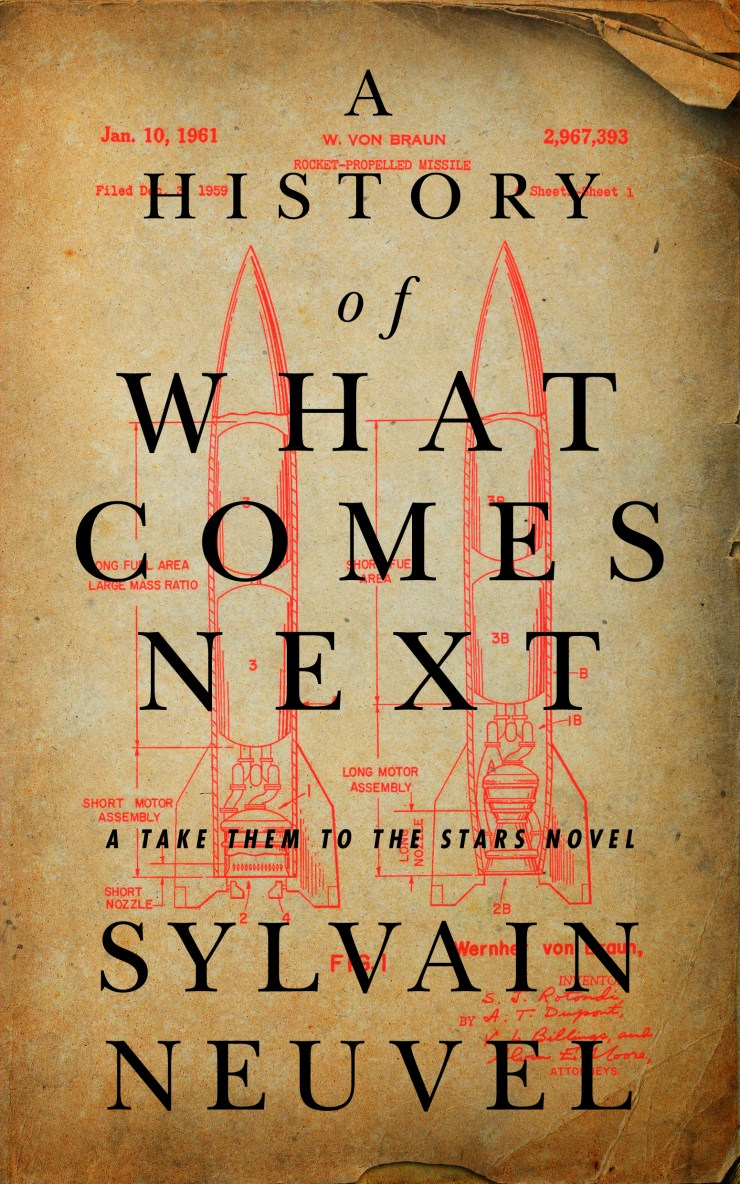 Synopsis

Showing that truth is stranger than fiction, Sylvain Neuvel weaves a scfi thriller reminiscent of Blake Crouch and Andy Weir, blending a fast moving, darkly satirical look at 1940s rocketry with an exploration of the amorality of progress and the nature of violence in A History of What Comes Next.

Always run, never fight.
Preserve the knowledge.
Survive at all costs.
Take them to the stars.

Over 99 identical generations, Mia's family has shaped human history to push them to the stars, making brutal, wrenching choices and sacrificing countless lives. Her turn comes at the dawn of the age of rocketry. Her mission: to lure Wernher Von Braun away from the Nazi party and into the American rocket program, and secure the future of the space race.

But Mia's family is not the only group pushing the levers of history: an even more ruthless enemy lurks behind the scenes.

A darkly satirical first contact thriller, as seen through the eyes of the women who make progress possible and the men who are determined to stop them…
I really like Sylvain Neuvel's writing a lot. I am curious if A History of What Came Next is as good. The synopsis sounds good, but will the novel itself be?
---
Let me know what you thought of these books!
If you have any requests for which book I should talk about next, please let me know in the comments down below.
For now, let books enrich your life!