Book Releases March 2021
I am sorry for not writing a review this month. I just spend the entire month listening to the audiobook of The Invisible Life of Addie LaRue only for it to be sort of boring and a waste of my time. Hopefully, I find the energy to write the review this month or at least read something I can write a review for. Thanks for your patience with me, it's been a year. But this month there are more new books coming out and here are four I am looking forward to.
Chain of Iron (The Last Hours #2) by Cassandra Clare
Namesake (Fable #2) by Adrienne Young
Rule of Wolves (King of Scars #2) By Leigh Bardugo
Bruised by Tanya Boteju

Chain of Iron (The Last Hours #2) by Cassandra Clare (March 2)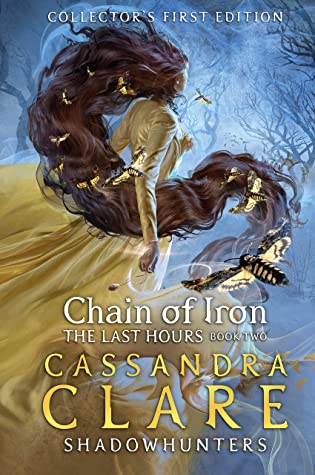 Synopsis

Cordelia Carstairs seems to have everything she ever wanted. She's engaged to marry James Herondale, the boy she has loved since childhood. She has a new life in London with her best friend Lucie Herondale and James's charming companions, the Merry Thieves. She is about to be reunited with her beloved father. And she bears the sword Cortana, a legendary hero's blade.

But the truth is far grimmer. James and Cordelia's marriage is a lie, arranged to save Cordelia's reputation. James is in love with the mysterious Grace Blackthorn whose brother, Jesse, died years ago in a terrible accident. Cortana burns Cordelia's hand when she touches it, while her father has grown bitter and angry. And a serial murderer is targeting the Shadowhunters of London, killing under cover of darkness, then vanishing without a trace.

Together with the Merry Thieves, Cordelia, James, and Lucie must follow the trail of the knife-wielding killer through the city's most dangerous streets. All the while, each is keeping a shocking secret: Lucie, that she plans to raise Jesse from the dead; Cordelia, that she has sworn a dangerous oath of loyalty to a mysterious power; and James, that he is being drawn further each night into the dark web of his grandfather, the arch-demon Belial. And that he himself may be the killer they seek.
Of course, whenever Cassandra Clare releases a book I have to add it to my list of releases. I think I will always have a soft spot for her writing even though I am a bit done with the Shadowhunter world. But hey! Here we go, Chain of Iron (part of the world I do still like) is finally releasing!
---
Namesake (Fable #2) by Adrienne Young (March 16)
Synopsis

Trader. Fighter. Survivor.

With the Marigold ship free of her father, Fable and its crew were set to start over. That freedom is short-lived when she becomes a pawn in a notorious thug's scheme. In order to get to her intended destination she must help him to secure a partnership with Holland, a powerful gem trader who is more than she seems.

As Fable descends deeper into a world of betrayal and deception she learns that her mother was keeping secrets, and those secrets are now putting the people Fable cares about in danger. If Fable is going to save them then she must risk everything, including the boy she loves and the home she has finally found.
I was hooked on Fable, wasn't I? I am very curious about Namesake. Can Adrienne Young keep up the writing and does it feel like an addition to Fable's story or does it feel too distant? We will have to see.
---
Rule of Wolves (King of Scars #2) By Leigh Bardugo (March 30)
Synopsis

The Demon King. As Fjerda's massive army prepares to invade, Nikolai Lantsov will summon every bit of his ingenuity and charm—and even the monster within—to win this fight. But a dark threat looms that cannot be defeated by a young king's gift for the impossible.

The Stormwitch. Zoya Nazyalensky has lost too much to war. She saw her mentor die and her worst enemy resurrected, and she refuses to bury another friend. Now duty demands she embrace her powers to become the weapon her country needs. No matter the cost.

The Queen of Mourning. Deep undercover, Nina Zenik risks discovery and death as she wages war on Fjerda from inside its capital. But her desire for revenge may cost her country its chance at freedom and Nina the chance to heal her grieving heart.

King. General. Spy. Together they must find a way to forge a future in the darkness. Or watch a nation fall.
I wondered if I should add Rule of Wolves to this list. I technically still haven't read King of Scars (I started a couple of times, but got bored). But I do want to read all the Grisha books before Shadow and Bone, the tv series is released on April 23rd. I guess I am going to have to hurry to do so… Wish me good luck.
---
Bruised by Tanya Boteju (March 23)
Synopsis

To Daya Wijesinghe, a bruise is a mixture of comfort and control. Since her parents died in an accident she survived, bruises have become a way to keep her pain on the surface of her skin so she doesn't need to deal with the ache deep in her heart.

So when chance and circumstances bring her to a roller derby bout, Daya is hooked. Yes, the rules are confusing and the sport seems to require the kind of teamwork and human interaction Daya generally avoids. But the opportunities to bruise are countless, and Daya realizes that if she's going to keep her emotional pain at bay, she'll need all the opportunities she can get.

The deeper Daya immerses herself into the world of roller derby, though, the more she realizes it's not the simple physical pain-fest she was hoping for. Her rough-and-tumble teammates and their fans push her limits in ways she never imagined, bringing Daya to big truths about love, loss, strength, and healing.
Bruised sounds like a completely new thing. I am worried about why I haven't heard about this book yet. But it also sounds really great. I am so curious where it will take Daya and if she can learn to deal with herself in the end.
---
Let me know what you thought of these books!
If you have any requests for which book I should talk about next, please let me know in the comments down below.
For now, let books enrich your life!