Book Releases February 2016
Oh man, with all these new series starting out this week! I wish I had more time to read. My 6 most anticipated releases from this month.
Lee Kelly – A Criminal Magic
Pierce Brown – Red Rising #3 Morning Star
Victoria Aveyard – Red Queen #2 Glass Sword
C.J. Redwine – Ravenspire #1 The Shadow Queen
Jessica Khoury – The Forbidden Wish
V.E. Schwab – A Darker Shade of Magic #2 A Gathering of Shadow
A Criminal Magic by Lee Kelly (February 2)
Synopsis

Magic is powerful, dangerous and addictive – and after passage of the 18th Amendment, it is finally illegal.

It's 1926 in Washington, DC, and while Anti-Sorcery activists have achieved the Prohibition of sorcery, the city's magic underworld is booming. Sorcerers cast illusions to aid mobsters' crime sprees. Smugglers funnel magic contraband in from overseas. Gangs have established secret performance venues where patrons can lose themselves in magic, and take a mind-bending, intoxicating elixir known as the sorcerer's shine.

Joan Kendrick, a young sorcerer from Norfolk County, Virginia accepts an offer to work for DC's most notorious crime syndicate, the Shaw Gang, when her family's home is repossessed. Alex Danfrey, a first-year Federal Prohibition Unit trainee with a complicated past and talents of his own, becomes tapped to go undercover and infiltrate the Shaws.

Through different paths, Joan and Alex tread deep into the violent, dangerous world of criminal magic – and when their paths cross at the Shaws' performance venue, despite their orders, and despite themselves, Joan and Alex become enchanted with one another. But when gang alliances begin to shift, the two sorcerers are forced to question their ultimate allegiances and motivations. And soon, Joan and Alex find themselves pitted against each other in a treacherous, heady game of cat-and-mouse.
I have not read anything by Lee Kelly yet, but the synopsis sounds interesting. I hope to add this one to my TBR when I have read the ones that are on there right now.
---
Morning Star (Red Rising #3) by Pierce Brown (February 9)
Synopsis

Born a lowly Red in the mines of Mars, Darrow lost his beloved wife to the treacherous Gold overlords. Vowing to fight for the future that his wife believed in, Darrow joins a secret revolutionary group and is remade into a Gold so that he can infiltrate the ruling class and bring them down from the inside. Now, after years of hiding amongst the Golds, Darrow is finally ready to declare open revolution and throw off the chains of oppression. Nothing in Darrow's world has been easily won, and this final fight will be the most harrowing of all.
I liked reading Red Rising and Golden Sun and I am hoping Morning Star will be as great.
---
Glass Sword (Red Queen #2) by Victoria Aveyard (February 9)
Synopsis

Mare Barrow's blood is red—the color of common folk—but her Silver ability, the power to control lightning, has turned her into a weapon that the royal court tries to control.

The crown calls her an impossibility, a fake, but as she makes her escape from Maven, the prince—the friend—who betrayed her, Mare uncovers something startling: she is not the only one of her kind.

Pursued by Maven, now a vindictive king, Mare sets out to find and recruit other Red-and-Silver fighters to join in the struggle against her oppressors.

But Mare finds herself on a deadly path, at risk of becoming exactly the kind of monster she is trying to defeat.

Will she shatter under the weight of the lives that are the cost of rebellion? Or have treachery and betrayal hardened her forever?
Red Queen was on my TBR for this year, when I had to switch it out for Lady Midgnight. But I am really anticipating this release too.
---
The Shadow Queen (Ravenspire #1) by C.J. Redwine (February 23)
Synopsis

Lorelai Diederich, crown princess and fugitive at large, has one mission: kill the wicked queen who took both the Ravenspire throne and the life of her father. To do that, Lorelai needs to use the one weapon she and Queen Irina have in common—magic. She'll have to be stronger, faster, and more powerful than Irina, the most dangerous sorceress Ravenspire has ever seen.

In the neighboring kingdom of Eldr, when Prince Kol's father and older brother are killed by an invading army of magic-wielding ogres, the second-born prince is suddenly given the responsibility of saving his kingdom. To do that, Kol needs magic—and the only way to get it is to make a deal with the queen of Ravenspire, promise to become her personal huntsman…and bring her Lorelai's heart.

But Lorelai is nothing like Kol expected—beautiful, fierce, and unstoppable—and despite dark magic, Lorelai is drawn in by the passionate and troubled king. Fighting to stay one step ahead of the dragon huntsman—who she likes far more than she should—Lorelai does everything in her power to ruin the wicked queen. But Irina isn't going down without a fight, and her final move may cost the princess the one thing she still has left to lose.
Another great synopsis. I hope to read this sometime soon.
---
The Forbidden Wish by Jessica Khoury (February 23)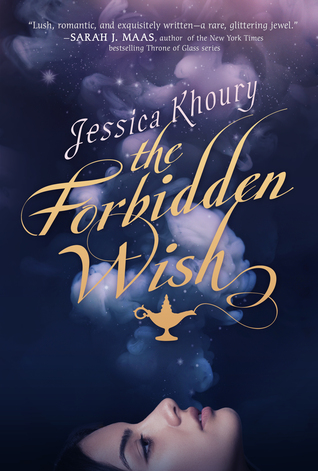 Synopsis

When Aladdin discovers Zahra's jinni lamp, Zahra is thrust back into a world she hasn't seen in hundreds of years — a world where magic is forbidden and Zahra's very existence is illegal. She must disguise herself to stay alive, using ancient shape-shifting magic, until her new master has selected his three wishes. 

But when the King of the Jinn offers Zahra a chance to be free of her lamp forever, she seizes the opportunity—only to discover she is falling in love with Aladdin. When saving herself means betraying him, Zahra must decide once and for all: is winning her freedom worth losing her heart?

As time unravels and her enemies close in, Zahra finds herself suspended between danger and desire in this dazzling retelling of Aladdin from acclaimed author Jessica Khoury.
Aladdin was my favorite Disney movie when I was younger and other fairy tales I liked too. I am very curious on this version of the tale.
---
A Gathering of Shadow (A Darker Shade of Magic #2) by V.E. Schwab (February 23)
Synopsis

Four months have passed since the shadow stone fell into Kell's possession. Four months since his path crossed with Delilah Bard. Four months since Rhy was wounded and the Dane twins fell, and the stone was cast with Holland's dying body through the rift, and into Black London.

In many ways, things have almost returned to normal, though Rhy is more sober, and Kell is now plagued by his guilt. Restless, and having given up smuggling, Kell is visited by dreams of ominous magical events, waking only to think of Lila, who disappeared from the docks like she always meant to do. As Red London finalizes preparations for the Element Games—an extravagant international competition of magic, meant to entertain and keep healthy the ties between neighboring countries—a certain pirate ship draws closer, carrying old friends back into port.

But while Red London is caught up in the pageantry and thrills of the Games, another London is coming back to life, and those who were thought to be forever gone have returned. After all, a shadow that was gone in the night reappears in the morning, and so it seems Black London has risen again—meaning that another London must fall.
Anticipating the release of the second book in this series, I already put it on my TBR at new years. This one is most defenitly one of the books I will read this year!
---
Let me know what you thought of these books!
If you have any requests for which book I should talk about next, please let me know in the comments down below.
For now, let books enrich your life!