Book Releases June 2018
I am so confused. It is the last day of May, I have read 125 books and the first half of the year isn't even over yet! This summer is going to great for reading, with the great releases of this month and the recent months. It's great. Have a great summer people!
Save the Date by Morgan Matson
Smoke in the Sun (Flame in the Mist #2) by Renee Ahdieh
Summer of Salt by Katrina Leno
City of Bastards (Royal Bastards #2) by Andrew Shvarts
Eden Conquered (Dividing Eden #2) by Joelle Charbonneau
A Reaper at the Gates (Ember Quartet #3) by Sabaa Tahir
My Plain Jane by Cynthia Hand, Jodi Meadows and Brodi Ashton

Save the Date by Morgan Matson (June 5)
Synopsis

Charlie Grant's older sister is getting married this weekend at their family home, and Charlie can't wait—for the first time in years, all four of her older siblings will be under one roof. Charlie is desperate for one last perfect weekend, before the house is sold and everything changes. The house will be filled with jokes and games and laughs again. Making decisions about things like what college to attend and reuniting with longstanding crush Jesse Foster—all that can wait. She wants to focus on making the weekend perfect.

The only problem? The weekend is shaping up to be an absolute disaster.

There's the unexpected dog with a penchant for howling, house alarm that won't stop going off, and a papergirl with a grudge.

There are the relatives who aren't speaking, the (awful) girl her favorite brother brought home unannounced, and a missing tuxedo.

Not to mention the neighbor who seems to be bent on sabotage and a storm that is bent on drenching everything. The justice of the peace is missing. The band will only play covers. The guests are all crazy. And the wedding planner's nephew is unexpectedly, distractingly…cute.

Over the course of three ridiculously chaotic days, Charlie will learn more than she ever expected about the family she thought she knew by heart. And she'll realize that sometimes, trying to keep everything like it was in the past means missing out on the future.
Okay, I keep saying I am not the person for romance novels. But I am a woman and do get very happy from weddings etc. I have heard Morgan Matson is a great writer and I am curious to finally try something by her.
---
Smoke in the Sun (Flame in the Mist #2) by Renee Ahdieh (June 5)
Synopsis

After Okami is captured in the Jukai forest, Mariko has no choice—to rescue him, she must return to Inako and face the dangers that have been waiting for her in the Heian Castle. She tricks her brother, Kenshin, and betrothed, Raiden, into thinking she was being held by the Black Clan against her will, playing the part of the dutiful bride-to-be to infiltrate the emperor's ranks and uncover the truth behind the betrayal that almost left her dead. 

With the wedding plans already underway, Mariko pretends to be consumed with her upcoming nuptials, all the while using her royal standing to peel back the layers of lies and deception surrounding the imperial court. But each secret she unfurls gives way to the next, ensnaring Mariko and Okami in a political scheme that threatens their honor, their love and very the safety of the empire.
Flame in the Mist is a great novel and I really want to read the sequel. There is not much to say about a sequel to a great read. Haha!
---
Summer of Salt by Katrina Leno (June 5)
Synopsis

A magic passed down through generations . . . 

Georgina Fernweh waits with growing impatience for the tingle of magic in her fingers—magic that has been passed down through every woman in her family. Her twin sister, Mary, already shows an ability to defy gravity. But with their eighteenth birthday looming at the end of this summer, Georgina fears her gift will never come.

An island where strange things happen . . . 

No one on the island of By-the-Sea would ever call the Fernwehs what they really are, but if you need the odd bit of help—say, a sleeping aid concocted by moonlight—they are the ones to ask.

No one questions the weather, as moody and erratic as a summer storm.

No one questions the (allegedly) three-hundred-year-old bird who comes to roost on the island every year.

A summer that will become legend . . . 

When tragedy strikes, what made the Fernweh women special suddenly casts them in suspicion. Over the course of her last summer on the island—a summer of storms, of love, of salt—Georgina will learn the truth about magic, in all its many forms.
Even though the title doesn't suggest it, this novel is said to contain magical realism and that is what pulls me towards this book. But also the mystery that alures in this synopsis is pulling me into it.
---
City of Bastards (Royal Bastards #2) by Andrew Shvarts (June 5)
Synopsis

Tilla, bastard of House Kent, has it made. Safe from her murderous father in the dazzling capital of Lightspire, she lives a life of luxury under the protection of the Volaris King, alongside her boyfriend Zell and best friend, Princess Lyriana.

So why isn't she happy? Maybe it's the whispers and stares that follow her wherever she goes, as the daughter of the traitor waging war against Lightspire. Or maybe it's the memories of her beloved brother, Jax, who lies cold in his grave even as she tries to settle into a life in the city's prestigious University.

Then, Tilla stumbles upon the body of a classmate, a friend. The authorities are quick to rule it a suicide and sweep it under the rug, but when Tilla herself is attacked by a mysterious man with terrifying powers, she's convinced of a conspiracy. Her friends beg her to stay silent; what she's suggesting is impossible… and treasonous.

But Tilla can't, won't, let it go. And the deeper she digs, the more questions she uncovers. How is the West beating the supposedly invincible Lightspire Mages in battle? Is it connected to the shadowy cult wreaking havoc in Lightspire? Nothing is as it seems in the glorious capital, and Tilla's presence might just be the spark that sets the Kingdom aflame.
I still haven't gotten to reading Royal Bastards but it is still on my tbr. I thinking the writing is witty and I am curious whether it lives up to what I think it is going to be.
---
Eden Conquered (Dividing Eden #2) by Joelle Charbonneau (June 5)
Synopsis

The Trials of Virtuous Succession have ended. Prince Andreus is king—and Princess Carys is dead.

But even as he's haunted by what he did to win the throne, Andreus discovers that his dream of ruling only brings new problems. The people love his twin even more in death than they did when she was alive. The Elders treat him as a figurehead. And worst of all, the winds of Eden are faltering. 

But despite what everyone believes, Carys is alive. Exiled to the wilderness, Carys struggles to control the powers that have broken free inside her. And as she grows stronger, so does her conviction that she must return to the Palace of Winds, face her twin and root out the treachery that began long before the first Trials started. 

The Kingdom of Eden is growing darker with each passing day. Brother and sister, former foes, must decide whether some betrayals cut too deep to be forgiven—and whether one will wear the crown or both will lose everything.
I said I didn't like Dividing Eden. And I still don't! But I am curious how this series will end and so I am putting it on this list.
---
A Reaper at the Gates (Ember Quartet #3) by Sabaa Tahir (June 12)
Synopsis

Beyond the Empire and within it, the threat of war looms ever larger.

The Blood Shrike, Helene Aquilla, is assailed on all sides. Emperor Marcus, haunted by his past, grows increasingly unstable, while the Commandant capitalizes on his madness to bolster her own power. As Helene searches for a way to hold back the approaching darkness, her sister's life and the lives of all those in the Empire hang in the balance.

Far to the east, Laia of Serra knows the fate of the world lies not in the machinations of the Martial court, but in stopping the Nightbringer. But while hunting for a way to bring him down, Laia faces unexpected threats from those she hoped would aid her, and is drawn into a battle she never thought she'd have to fight.

And in the land between the living and the dead, Elias Veturius has given up his freedom to serve as Soul Catcher. But in doing so, he has vowed himself to an ancient power that will stop at nothing to ensure Elias's devotion–even at the cost of his humanity.
I loved the first two novels in this series I want to read the rest of this series, not next year and not tomorrow. I want it now, both of the books!
---
My Plain Jane by Cynthia Hand, Jodi Meadows and Brodi Ashton (June 26)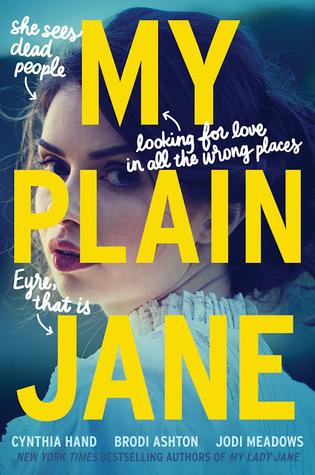 Synopsis

You may think you know the story. After a miserable childhood, penniless orphan Jane Eyre embarks on a new life as a governess at Thornfield Hall. There, she meets one dark, brooding Mr. Rochester. Despite their significant age gap (!) and his uneven temper (!!), they fall in love—and, Reader, she marries him. (!!!)

Or does she?

Prepare for an adventure of Gothic proportions, in which all is not as it seems, a certain gentleman is hiding more than skeletons in his closets, and one orphan Jane Eyre, aspiring author Charlotte Brontë, and supernatural investigator Alexander Blackwood are about to be drawn together on the most epic ghost hunt this side of Wuthering Heights.
I still haven't read My Lady Jane, but I have read books all the authors and knowing that I liked them seperately I think it is very likely I will like these books too.
---
Let me know what you thought of these books!
If you have any requests for which book I should talk about next, please let me know in the comments down below.
For now, let books enrich your life!