Book Releases January 2019
Wow, 2019 already. A new year and loads of new book to read.
The Similars (The Similars #1) by Rebecca Hanover
Two Can Keep a Secret by Karen M. McManus
The Wicked King (The Folk of the Air #2) by Holly Black
Imprison the Sky (The Elementae #2) by A.C. Gaughen
The Vanishing Stair (Truly Devious #2) by Maureen Johnson
King of Scars (Nikolai Duology #1) by Leigh Bardugo

The Similars (The Similars #1) by Rebecca Hanover (January 1)
Synopsis

When six clones join Emmaline's prestigious boarding school, she must confront the heartbreak of seeing her dead best friend's face each day in class.

The Similars are all anyone can talk about at the elite Darkwood Academy. Who are these six clones? What are the odds that all of them would be Darkwood students? Who is the madman who broke the law to create them? Emma couldn't care less. Her best friend, Oliver, died over the summer and all she can think about is how to get through her junior year without him. Then she comes face-to-heartbreaking-face with Levi—Oliver's exact DNA replica and one of the Similars.

Emma wants nothing to do with the Similars, but she keeps getting pulled deeper and deeper into their clique, uncovering dark truths about the clones and her prestigious school along the way. But no one can be trusted…not even the boy she is falling for who has Oliver's face.
I love this synopsis and it makes me curious to read The Similars. Do I need to say more?
---
Two Can Keep a Secret by Karen M. McManus (January 8)
Synopsis

Echo Ridge is small-town America. Ellery's never been there, but she's heard all about it. Her aunt went missing there at age seventeen. And only five years ago, a homecoming queen put the town on the map when she was killed. Now Ellery has to move there to live with a grandmother she barely knows.

The town is picture-perfect, but it's hiding secrets. And before school even begins for Ellery, someone's declared open season on homecoming, promising to make it as dangerous as it was five years ago. Then, almost as if to prove it, another girl goes missing.

Ellery knows all about secrets. Her mother has them; her grandmother does too. And the longer she's in Echo Ridge, the clearer it becomes that everyone there is hiding something. The thing is, secrets are dangerous–and most people aren't good at keeping them. Which is why in Echo Ridge, it's safest to keep your secrets to yourself.
I loved One of Us is Lying and with Karen's new book coming out I really want to see if she can keep it up.
---
The Wicked King (The Folk of the Air #2) by Holly Black (January 8)
Synopsis

You must be strong enough to strike and strike and strike again without tiring.

The first lesson is to make yourself strong.

After the jaw-dropping revelation that Oak is the heir to Faerie, Jude must keep her younger brother safe. To do so, she has bound the wicked king, Cardan, to her, and made herself the power behind the throne. Navigating the constantly shifting political alliances of Faerie would be difficult enough if Cardan were easy to control. But he does everything in his power to humiliate and undermine her even as his fascination with her remains undiminished.

When it becomes all too clear that someone close to Jude means to betray her, threatening her own life and the lives of everyone she loves, Jude must uncover the traitor and fight her own complicated feelings for Cardan to maintain control as a mortal in a Faerie world.
I plan on reading The Cruel Prince this month and I look forward to immediately being able to round this series off by reading the second part of the duology. I have heard a lot of good thing about it, so who knows?
---
Imprison the Sky (The Elementae #2) by A.C. Gaughen (January 22)
Synopsis

Stolen from her family as a child, Aspasia has clawed her way up the ranks of Cyrus's black market empire to captain her own trading vessel–and she risks it all every time she uses her powerful magic to free as many women, children, and Elementae from slavery as she can.

But Cyrus is close to uncovering her secrets–not only that Aspasia is an air Elementa with the ability to sail her ship through the sky, but that she is also searching for her lost family. And if Aspasia can't find her younger siblings before Cyrus does, she will never be able to break free.

Armed with her loyal crew full of Elementae and a new recruit who controls an intriguing power, Aspasia finds herself in the center of a brewing war that spans every inch of the ocean, and her power alone may not be enough to save her friends, family, and freedom.
I enjoyed Reign the Earth and it has been in the back of my mind since I read it so I am curious if I can reread it sometime soon to read Imprison the Sky too.
---
The Vanishing Stair (Truly Devious #2) by Maureen Johnson (January 22)
Synopsis

All Stevie Bell wanted was to find the key to the Ellingham mystery, but instead she found her classmate dead. And while she solved that murder, the crimes of the past are still waiting in the dark. Just as Stevie feels she's on the cusp of putting it together, her parents pull her out of Ellingham academy.

For her own safety they say. She must move past this obsession with crime. Now that Stevie's away from the school of topiaries and secret tunnels, and her strange and endearing friends, she begins to feel disconnected from the rest of the world. At least she won't have to see David anymore. David, who she kissed. David, who lied to her about his identity—son of despised politician Edward King. Then King himself arrives at her house to offer a deal: He will bring Stevie back to Ellingham immediately. In return, she must play nice with David. King is in the midst of a campaign and can't afford his son stirring up trouble. If Stevie's at school, David will stay put.

The tantalizing riddles behind the Ellingham murders are still waiting to be unraveled, and Stevie knows she's so close. But the path to the truth has more twists and turns than she can imagine—and moving forward involves hurting someone she cares for.
I loved Truly Devious and I really want to know where it is going from now on. Is Stevie going to find out what happened? Who knows!
---
King of Scars (Nikolai Duology #1) by Leigh Bardugo (January 29)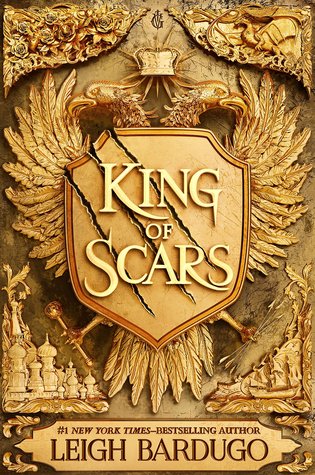 Synopsis

Nikolai Lantsov has always had a gift for the impossible. No one knows what he endured in his country's bloody civil war—and he intends to keep it that way. Now, as enemies gather at his weakened borders, the young king must find a way to refill Ravka's coffers, forge new alliances, and stop a rising threat to the once-great Grisha Army.

Yet with every day a dark magic within him grows stronger, threatening to destroy all he has built. With the help of a young monk and a legendary Grisha Squaller, Nikolai will journey to the places in Ravka where the deepest magic survives to vanquish the terrible legacy inside him. He will risk everything to save his country and himself. But some secrets aren't meant to stay buried—and some wounds aren't meant to heal.
Nikolai was an interesting character in Leigh's other books so I am curious what kind of adventure he is on now.
---
Let me know what you thought of these books!
If you have any requests for which book I should talk about next, please let me know in the comments down below.
For now, let books enrich your life!