Book Releases May 2019
April flew by. I did a lot of things in the first half of the month and completely nothing the last half, I will write a post about what has happened whenever I have the capability to focus on something for longer than a few minutes and have both hands free (which might take a couple of months).
But in May a few books will be released I am looking forward to.
Aurora Rising (The Aurora Cycle #1) by Amie Kaufman & Jay Kristoff
Finale (Caraval #3) by Stephanie Garber
Her Royal Highness (Royals #2) by Rachel Hawkins
Kingsbane (Empirium #2) by Claire Legrand

Aurora Rising (The Aurora Cycle #1) by Amie Kaufman & Jay Kristoff (April 2)
Synopsis

The year is 2380, and the graduating cadets of Aurora Academy are being assigned their first missions. Star pupil Tyler Jones is ready to recruit the squad of his dreams, but his own boneheaded heroism sees him stuck with the dregs nobody else in the Academy would touch…

A cocky diplomat with a black belt in sarcasm
A sociopath scientist with a fondness for shooting her bunkmates
A smart-ass techwiz with the galaxy's biggest chip on his shoulder
An alien warrior with anger management issues
A tomboy pilot who's totally not into him, in case you were wondering

And Ty's squad isn't even his biggest problem—that'd be Aurora Jie-Lin O'Malley, the girl he's just rescued from interdimensional space. Trapped in cryo-sleep for two centuries, Auri is a girl out of time and out of her depth. But she could be the catalyst that starts a war millions of years in the making, and Tyler's squad of losers, discipline-cases and misfits might just be the last hope for the entire galaxy.

They're not the heroes we deserve. They're just the ones we could find. Nobody panic.
I love Amie & Jay's writing together. I loved the Illuminae Files. I do hope Aurora Rising will be of the same quality. Who knows.
---
Finale (Caraval #3) by Stephanie Garber (April 2)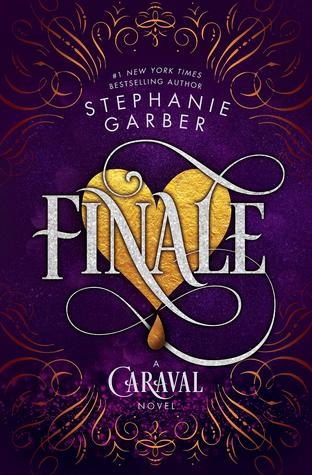 Synopsis

Welcome, welcome to Caraval…all games must come to an end.

It's been two months since the last Caraval concluded, two months since the Fates have been freed from an enchanted deck of cards, two months since Tella has seen Legend, and two months since Legend claimed the empire's throne as his own. Now, Legend is preparing for his official coronation and Tella is determined to stop it. She believes her own mother, who still remains in an enchanted sleep, is the rightful heir to the throne.

Meanwhile, Scarlett has started a game of her own. She's challenged Julian and her former fiancé, Count Nicolas d'Arcy, to a competition where the winner will receive her hand in marriage. Finaly, Scarlett feels as if she is in complete control over her life and future. She is unaware that her mother's past has put her in the greatest danger of all.

Caraval is over, but perhaps the greatest game of all has begun―with lives, empires, and hearts all at stake. There are no spectators this time: only those who will win…and those who will lose everything. . .
I had hoped to have read Legendary the second book in the Caraval series by now. But unfortunately not. I do have Finale pre-ordered and hope to receive it on the release date. So who knows when I will read it.
---
Her Royal Highness (Royals #2) by Rachel Hawkins (April 2)
Synopsis

Millie Quint is devastated when she discovers that her sort-of-best friend/sort-of-girlfriend has been kissing someone else. And because Millie cannot stand the thought of confronting her ex every day, she decides to apply for scholarships to boarding schools . . . the farther from Houston the better.

Millie can't believe her luck when she's accepted into one of the world's most exclusive schools, located in the rolling highlands of Scotland. Everything about Scotland is different: the country is misty and green; the school is gorgeous, and the students think Americans are cute.

The only problem: Mille's roommate Flora is a total princess.

She's also an actual princess. Of Scotland.

At first, the girls can barely stand each other–Flora is both high-class and high-key–but before Millie knows it, she has another sort-of-best-friend/sort-of-girlfriend. Even though Princess Flora could be a new chapter in her love life, Millie knows the chances of happily ever afters are slim . . . after all, real life isn't a fairy tale . . . or is it?
To my shame, I still haven't read Royals, but Her Royal Highness does sound as fun as Royals. Too bad Rachel Hawkins changed the name of Royals just to fit more with this new book.
---
Kingsbane (Empirium #2) by Claire Legrand (April 4)
Synopsis

Rielle Dardenne has been anointed Sun Queen, but her trials are far from over. The Gate keeping the angels at bay is falling. To repair it, Rielle must collect the seven hidden castings of the saints. Meanwhile, to help her prince and love Audric protect Celdaria, Rielle must spy on the angel Corien—but his promises of freedom and power may prove too tempting to resist.

Centuries later, Eliana Ferracora grapples with her new reality: She is the Sun Queen, humanity's long-awaited savior. But fear of corruption—fear of becoming another Rielle—keeps Eliana's power dangerous and unpredictable. Hunted by all, racing against time to save her dying friend Navi, Eliana must decide how to wear a crown she never wanted—by embracing her mother's power, or rejecting it forever.
It is finally time for Kingsbane! I have been waiting for so long for this novel, only a few more days.
---
Let me know what you thought of these books!
If you have any requests for which book I should talk about next, please let me know in the comments down below.
For now, let books enrich your life!