Book Releases November 2015
Another month has gone by. And in the world of books, that means MORE BOOKS! Also in November 2015 has a lot of great book releases. In this post I will point out the – to my opinion – best book releases of next month.
Hotel Ruby by Suzanne Young (November 3)
Synopsis
Stay Tonight. Stay Forever.
When Audrey Casella arrives for an unplanned stay at the grand Hotel Ruby, she's grateful for the detour. Just months after their mother's death, Audrey and her brother, Daniel, are on their way to live with their grandmother, dumped on the doorstep of a DNA-matched stranger because their father is drowning in his grief.
Audrey and her family only plan to stay the night, but life in the Ruby can be intoxicating, extending their stay as it provides endless distractions—including handsome guest Elias Lange, who sends Audrey's pulse racing. However, the hotel proves to be as strange as it is beautiful. Nightly fancy affairs in the ballroom are invitation only, and Audrey seems to be the one guest who doesn't have an invite. Instead, she joins the hotel staff on the rooftop, catching whispers about the hotel's dark past.
The more Audrey learns about the new people she's met, the more her curiosity grows. She's torn in different directions—the pull of her past with its overwhelming loss, the promise of a future that holds little joy, and an in-between life in a place that is so much more than it seems…
Welcome to the Ruby.
Already this synopsis makes me want to read this book. It seems to be scary, unplanned events and everything I would like for a Helloween read.
---
The Revolution of Ivy by Amy Engel (November 3)
Synopsis
Ivy Westfall is beyond the fence and she is alone. Abandoned by her family and separated from Bishop Lattimer, Ivy must find a way to survive on her own in a land filled with countless dangers, both human and natural. She has traded a more civilized type of cruelty–forced marriages and murder plots–for the bare-knuckled brutality required to survive outside Westfall's borders.
But there is hope beyond the fence, as well. And when Bishop reappears in Ivy's life, she must decide if returning to Westfall to take a final stand for what she believes is right is worth losing everything she's fought for.
A new series set in a dystopian world! I just love dystopians and am really curious for this book. I really want to get this and see if it is really worth the hype.
---
Ten Thousand Skies Above You (Firebird #2) by Claudia Gray (November 3)
Synopsis
Ever since she used the Firebird, her parents' invention, to cross into alternate dimensions, Marguerite has caught the attention of enemies who will do anything to force her into helping them dominate the multiverse—even hurting the people she loves. She resists until her boyfriend, Paul, is attacked and his consciousness scattered across multiple dimensions.
Marguerite has no choice but to search for each splinter of Paul's soul. The hunt sends her racing through a war-torn San Francisco, the criminal underworld of New York City, and a glittering Paris where another Marguerite hides a shocking secret. Each world brings Marguerite one step closer to rescuing Paul. But with each trial she faces, she begins to question the destiny she thought they shared.
I have not started on the Firebird series yet. But I have read the Spellcaster series by Claudia Gray and I really liked that one, so – that combined with the synopsis – makes me want to read this series too.
---
Winter (Lunar Chronicles #4) by Marissa Meyer (November 10)
Synopsis
Princess Winter is admired by the Lunar people for her grace and kindness, and despite the scars that mar her face, her beauty is said to be even more breathtaking than that of her stepmother, Queen Levana.
Winter despises her stepmother, and knows Levana won't approve of her feelings for her childhood friend–the handsome palace guard, Jacin. But Winter isn't as weak as Levana believes her to be and she's been undermining her stepmother's wishes for years. Together with the cyborg mechanic, Cinder, and her allies, Winter might even have the power to launch a revolution and win a war that's been raging for far too long.
Can Cinder, Scarlet, Cress, and Winter defeat Levana and find their happily ever afters?
I have read all the books in the Lunar Chronicles and I loved them. They are kind of story retelling, which I love! I am very happy the Lunar Chronicles finally get another book.
---
Once Again: Snow; Beauty Sleep by Liz Braswell & Cameron Dokey (November 17)
Synopsis
Two beloved and timeless tales—Snow White and Sleeping Beauty—find new life in these magical and imaginative retellings filled with romance and adventure.
Snow
After the tragic death of her mother, Jessica's father finds love again. But as Jessica grows into a beautiful young woman, it becomes clear that her stepmother is wildly—and murderously—jealous of her.
With no choice, Jessica escapes to London and finds herself surrounded by an odd band of outcasts who accept her into their makeshift family. And when her stepmother—repentant and supposedly seeking forgiveness—appears in the city, Jessica must decide whom to trust.
Beauty Sleep
Cursed at birth, Princess Aurore is fated to prick her finger at age sixteen and sleep for one hundred years. As the days go by, the adventurous princess makes a habit of exploring the lands beyond the castle, where her warmth and generosity earn her the devotion of the townspeople.
But when she finds out the impending curse will not only harm her—but the entire kingdom—Aurore embarks on a dangerous quest to end the evil magic. Will she be able to put a stop to the curse before it's too late?
Another book with retellings. I just love fairy tales! So I try to read as much of the retellings and these two stories I also want to read.
---
The Vanishing Throne (The Falconer #2) by Elizabeth May (November 19)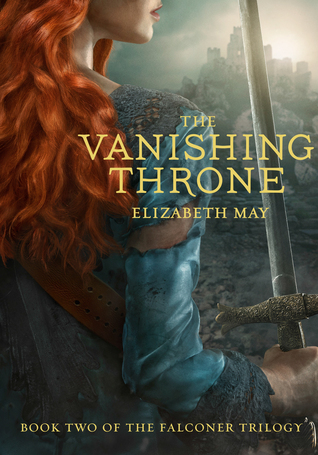 Synopsis
Aileana Kameron, the Falconer, disappeared through the portal that she was trying to close forever. Now she wakes up in the fae world, trapped and tortured by the evil Lonnrach. With the help of an unexpected ally, Aileana re-enters the human world, only to find everything irrevocably changed. Edinburgh has been destroyed, and the few human survivors are living in an uneasy truce with the fae, while both worlds are in danger of disappearing altogether. Aileana holds the key to saving both worlds, but in order to do so she must awaken her latent Falconer powers. And the price of doing that might be her life.
I have not read anything by Elizabeth May, but when her first book The Falconer came out I wanted to read it. Just did not have the time yet to read it and now the second book will come out! I am very curious for this book.
---
Let me know what you thought of these books!
If you have any requests for which book I should talk about next, please let me know in the comments down below.
For now, let books enrich your life!