Book Releases September 2017
Turning into the last month of the third quarter of the year, the releases I look forward to has gone up. These are the books I am looking forward to this month, if you have any, let me know in the comments down below!
Tower of Dawn (Throne of Glass #6) – Sarah J. Maas
Godsgrave (The Nevernight Chronicle #2) – Jay Kristoff
Loneliest Girl in the Universe – Lauren James
Warcross (Warcross #1) – Marie Lu
A Column of Fire (Kingsbridge #3) – Ken Follett
One Dark Throne (Three Dark Crowns #2) – Kendare Blake
The Language of Thorns – Leigh Bardugo
Sleeing Beauties – Stephen & Owen King

Tower of Dawn (Throne of Glass #6) by Sarah J. Maas (September 5)
Synopsis

Chaol Westfall has always defined himself by his unwavering loyalty, his strength, and his position as the Captain of the Guard. But all of that has changed since the glass castle shattered, since his men were slaughtered, since the King of Adarlan spared him from a killing blow, but left his body broken.

His only shot at recovery lies with the legendary healers of the Torre Cesme in Antica—the stronghold of the southern continent's mighty empire. And with war looming over Dorian and Aelin back home, their survival might lie with Chaol and Nesryn convincing its rulers to ally with them.

But what they discover in Antica will change them both—and be more vital to saving Erilea than they could have imagined.
I love the Throne of Glass series and so I am looking forward to a new part in the series. But I am sad that it is not the actual final to the series and just the story of Chaol that was promised earlier in the year.
---
Godsgrave (The Nevernight Chronicle #2) by Jay Kristoff (September 5)
Synopsis

Assassin Mia Corvere has found her place among the Blades of Our Lady of Blessed Murder, but many in the Red Church ministry think she's far from earned it. Plying her bloody trade in a backwater of the Republic, she's no closer to ending Consul Scaeva and Cardinal Duomo, or avenging her familia. And after a deadly confrontation with an old enemy, Mia begins to suspect the motives of the Red Church itself.

When it's announced that Scaeva and Duomo will be making a rare public appearance at the conclusion of the grand games in Godsgrave, Mia defies the Church and sells herself to a gladiatorial collegium for a chance to finally end them. Upon the sands of the arena, Mia finds new allies, bitter rivals, and more questions about her strange affinity for the shadows. But as conspiracies unfold within the collegium walls, and the body count rises, Mia will be forced to choose between loyalty and revenge, and uncover a secret that could change the very face of her world.
I have not gotten to reading Nevernight, but I love the Illuminae Files and want to read more by this amazing author!
---
Loneliest Girl in the Universe by Lauren James (September 7)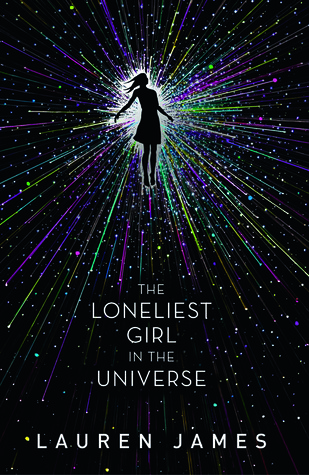 Synopsis

Romy Silvers is the only surviving crew-member of a spaceship travelling to a new planet, on a mission to establish a second home for humanity amongst the stars. Alone in space, she is the loneliest girl in the universe until she hears about a new ship which has launched from Earth – with a single passenger on board. A boy called J.

Their only communication with each other is via email – and due to the distance between them, their messages take months to transmit across space. And yet Romy finds herself falling in love.

But what does Romy really know about J? And what do the mysterious messages which have started arriving from Earth really mean?

Sometimes, there's something worse than being alone . . .
Loneliest Girl in the Universe just sounds like the coolest titel for a novel in a long time. The synopsis is also pretty interesting. So even though I have not read anything by Lauren James, I am looking forward to this one.
---
Warcross (Warcross #1) by Marie Lu (September 12)
Synopsis

For the millions who log in every day, Warcross isn't just a game—it's a way of life. The obsession started ten years ago and its fan base now spans the globe, some eager to escape from reality and others hoping to make a profit. Struggling to make ends meet, teenage hacker Emika Chen works as a bounty hunter, tracking down players who bet on the game illegally. But the bounty hunting world is a competitive one, and survival has not been easy. Needing to make some quick cash, Emika takes a risk and hacks into the opening game of the international Warcross Championships—only to accidentally glitch herself into the action and become an overnight sensation.

Convinced she's going to be arrested, Emika is shocked when instead she gets a call from the game's creator, the elusive young billionaire Hideo Tanaka, with an irresistible offer. He needs a spy on the inside of this year's tournament in order to uncover a security problem . . . and he wants Emika for the job. With no time to lose, Emika's whisked off to Tokyo and thrust into a world of fame and fortune that she's only dreamed of. But soon her investigation uncovers a sinister plot, with major consequences for the entire Warcross empire.
Finally something new by Marie Lu! I really want to read this, I have already heard so many great things about it. I need it NOW!
---
A Column of Fire (Kingsbridge #3) by Ken Follett (September 12)
Synopsis

Christmas 1558, and young Ned Willard returns home to Kingsbridge to find his world has changed.

The ancient stones of Kingsbridge Cathedral look down on a city torn by religious hatred. Europe is in turmoil as high principles clash bloodily with friendship, loyalty and love, and Ned soon finds himself on the opposite side from the girl he longs to marry, Margery Fitzgerald.

Then Elizabeth Tudor becomes queen and all of Europe turns against England. The shrewd, determined young monarch immediately sets up the country's first secret service to give her early warning of assassination plots, rebellions and invasion plans. 

Elizabeth knows that alluring, headstrong Mary Queen of Scots lies in wait in Paris. Part of a brutally ambitious French family, Mary has been proclaimed the rightful ruler of England, with her own supporters scheming to get rid of the new queen.

Over a turbulent half-century, the love between Ned and Margery seems doomed, as extremism sparks violence from Edinburgh to Geneva. With Elizabeth clinging precariously to her throne and her principles, protected by a small, dedicated group of resourceful spies and courageous secret agents, it becomes clear that the real enemies – then as now – are not the rival religions. 

The true battle pitches those who believe in tolerance and compromise against the tyrants who would impose their ideas on everyone else – no matter the cost.
Before I started Books in Character I read two amazing novels, Pillars of the Earth and World without End and I loved them. A Column of Fire is the third novel in this series and I am very curious about where Ken Follett brings this historical drama.
---
One Dark Throne (Three Dark Crowns #2) by Kendare Blake (September 19)
Synopsis

The battle for the Crown has begun, but which of the three sisters will prevail?

With the unforgettable events of the Quickening behind them and the Ascension Year underway, all bets are off. Katharine, once the weak and feeble sister, is stronger than ever before. Arsinoe, after discovering the truth about her powers, must figure out how to make her secret talent work in her favor without anyone finding out. And Mirabella, once thought to be the strongest sister of all and the certain Queen Crowned, faces attacks like never before—ones that put those around her in danger she can't seem to prevent.
I have heard a lot of good things about Three Dark Crowns and it is on my TBR, so I would like to read One Dark Throne too.
---
The Language of Thorns by Leigh Bardugo (September 26)
Synopsis

Travel to a world of dark bargains struck by moonlight, of haunted towns and hungry woods, of talking beasts and gingerbread golems, where a young mermaid's voice can summon deadly storms and where a river might do a lovestruck boy's bidding but only for a terrible price.

Inspired by myth, fairy tale, and folklore, #1 New York Times–bestselling author Leigh Bardugo has crafted a deliciously atmospheric collection of short stories filled with betrayals, revenge, sacrifice, and love.

Perfect for new readers and dedicated fans, these tales will transport you to lands both familiar and strange—to a fully realized world of dangerous magic that millions have visited through the novels of the Grishaverse.

This collection of six stories includes three brand-new tales, all of them lavishly illustrated with art that changes with each turn of the page, culminating in six stunning full-spread illustrations as rich in detail as the stories themselves.
I love anything in the Grishaverse! I have to have this novel with six new (to me) stories.
---
Sleeing Beauties by Stephen & Owen King (September 26)
Synopsis

In a future so real and near it might be now, something happens when women go to sleep; they become shrouded in a cocoon-like gauze. If they are awakened, if the gauze wrapping their bodies is disturbed or violated, the women become feral and spectacularly violent; and while they sleep they go to another place. The men of our world are abandoned, left to their increasingly primal devices. One woman, however, the mysterious Evie, is immune to the blessing or curse of the sleeping disease. Is Evie a medical anomaly to be studied, or is she a demon who must be slain? Set in a small Appalachian town whose primary employer is a women's prison, Sleeping Beauties is wildly provocative and gloriously absorbing.
I have always liked books by Stephen King and I very curious on whether I can destingish between Stephens writing and his son's, Owen. It has been awhile since I have been looking forward to a thriller.
---
Let me know what you thought of these books!
If you have any requests for which book I should talk about next, please let me know in the comments down below.
For now, let books enrich your life!