This review is going to be a bit different from normal. Usually I review one book at the time. But I read 5 short stories recently and wanted to share my opinion of these with you. They are all available online for free, just check the Goodreads list I have added at the end and somewhere in the comments you will find the right link.


Title & Author: The Witch of Duva by Leigh Bardugo
Series: The Grisha
Rating:
Synopsis

There was a time when the woods near Duva ate girls…or so the story goes. But it's just possible that the danger may be a little bit closer to home.
I really enjoyed getting back to The Grisha universe with The Witch of Duva. The story was short and fun to read and even though it was not enough for a real novel, it did give enough info to reader to get a good background story on the main character and to keep it interesting.

Title & Author: Warm Up by V.E. Schwab
Series: Villains
Rating:
Synopsis

It's been 297 days since David died–and came back.

He may have survived the avalanche, but the aftermath has been far worse. His wife moved out, taking his son with her, and a devastated David hasn't left his house since, terrified of the mysterious new power that followed him home from the ill-fated expedition.

After months in seclusion, David's ready for a fresh start, and ventures out, determined to keep his power in check. But David's power isn't the one he needs to worry about.
Warm Up is not as interesting as Vicious was. It kept me way more interested, but the story is a nice preview to see what Vicious might be (I also like the POV from Vicious better).

Title & Author: Glitches by Marissa Meyer
Series: The Lunar Chronicles
Rating:
Synopsis

Cinder, a gifted mechanic, is a cyborg. She's a second-class citizen with a mysterious past, reviled by her stepmother and blamed for her stepsister's illness. In Glitches, a short prequel story to Cinder, we see the results of that illness play out, and the emotional toll that takes on Cinder. Something that may, or may not, be a glitch…
Glitches brought me back to The Lunar Chronicles, which I really liked. But I kind of already had this information from the four main novels. It felt like it just got repeated and added not much new. But still it was not badly written.

Title & Author: The Queen's Army by Marissa Meyer
Series: The Lunar Chronicles
Rating:
Synopsis

It is time. The boy must leave his family to serve in the Queen's army. To be chosen is an honor. To decline is impossible. The boy is modified. He is trained for several years, and learns to fight to the death. He proves to the Queen—and to himself—that he is capable of evil. He is just the kind of soldier the Queen wants: the alpha of his pack.
I liked The Queen's Army, because I have always liked Z's story. And liked getting more info on his life. Which was a thing I wanted every since I read Scarlet. I would like even more info, but this is as much I was granted.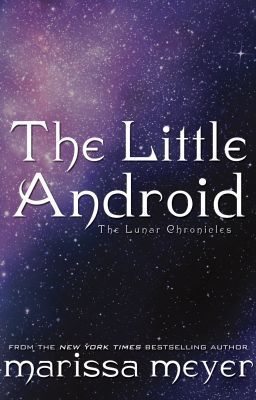 Title & Author: The Little Android by Marissa Meyer
Series: The Lunar Chronicles
Rating:
Synopsis

When android Mech6.0 saves the life of a handsome hardware engineer, her body is destroyed and her mechanics discover a glitch in her programming. Androids aren't meant to develop impractical reasoning or near-emotional responses…let alone fall in love.
I found the story of Mech6.0 in The Little Android interesting, but it just could not keep me interested. It felt all very far from the other stories in The Lunar Chronicles. It was not bad, but just not what I would have expected would fit in with it. Except for the universe it barely had anything in common.
So overall it was not a waste of time to read these novellas. I would suggest everyone who liked these three series should read them since they are for free. Marissa Meyer's short stories are available on Wattpad and the other two I found on Tor.com. Just have a snoop around there or look in the comments on Goodreads to find the direct link.
Let me know what you thought of these novellas!
If you have any requests for which book I should talk about next, please let me know in the comments down below.
For now, let books enrich your life!