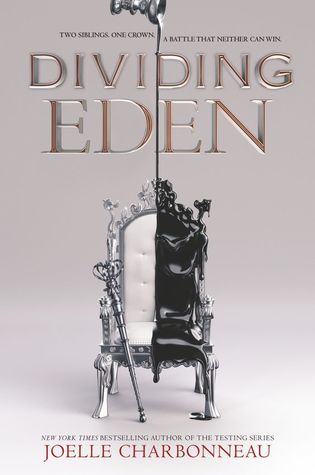 Everything hurt
Dividing Eden is right now the most dissapointing read of mine in 2017. For most of this novel I was wondering how this got published. Usually when something is not my cup of tea I can at least tell if it is well written, but I actually think it is really badly written.
Book Review: Dividing Eden by Joelle Charbonneau
Rating: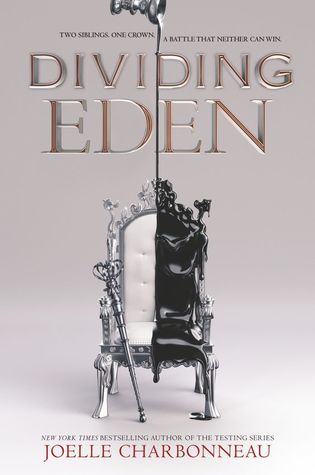 Title & Author: Dividing Eden by Joelle Charbonneau
Genre: Fantasy, Adventure
Release Date: June 6 2017
Series: Dividing Eden
Publisher: HarperCollins

Synopsis

Twins Carys and Andreus were never destined to rule Eden. With their older brother next in line to inherit the throne, the future of the kingdom was secure.

But appearances—and rivals—can be deceiving. When Eden's king and crown prince are killed by assassins, Eden desperately needs a monarch, but the line of succession is no longer clear. With a ruling council scheming to gain power, Carys and Andreus are faced with only one option—to take part in a Trial of Succession that will determine which one of them is worthy of ruling the kingdom.

As sister and brother, Carys and Andreus have always kept each other safe—from their secrets, from the court, and from the monsters lurking in the mountains beyond the kingdom's wall. But the Trial of Succession will test the bonds of trust and family.

With their country and their hearts divided, Carys and Andreus will discover exactly what each will do to win the crown. How long before suspicion takes hold and the thirst for power leads to the ultimate betrayal?
I give Dividing Eden by Joelle Charbonneau two out of five hearts because I thought it was badly written en there was so much potential which went unused. The back of the book sounds so good, but the more I read, the more I got annoyed.
From the start it is clear that the twins have issues, so many issues and by the time the real curse is shown I still didn't understand what Carys and Andreus thought the curse was. It sounded to me like a breathing problem from everything that was said, but why would a weakness be a curse? It sounded super weird. And all of a sudden the real curse is shown, in the last five (or so) chapters, even though there were never hints about it there.
Speaking of the fake curse, I really felt like Carys was giving way to much of her self to protect Andreus from being discovered. I feel that even for twins it goes to far. She is literally tortured for it! How can she not see she might want to choose herself some times!
Overall the characters were very bland and some things happen so clearly because Joelle needs them to happen it is hard to not throw the novel out of the window. It took me forever to get through it and only the last few chapters did not hinder me while reading.
There is little romance in this novel, but there is the insta-love between Carys and Lord Errick and a weird interest from Andreus towards Lady Imogen. I liked that this novel was less centered on the romance, but it was still not very well done.
I found it was very clear the entire novel who was the real villain of the story, I found it sad since the story would have been so much better if it had been not as clear.
This is one of those reads where I feel I should not have pushed myself through it, but I am also not a person to give up a book midway through. When I started it felt like a novel you just finish in a couple of hours, but I fought for days and when I was done, I wanted to throw the book out the door.
Let me know what you thought of this book!
If you have any requests for which book I should talk about next, please let me know in the comments down below.
For now, let books enrich your life!