No way I'm wearing a dress anytime this century
I had a hard time getting through Gypsies, Tramps and Weeia. Not because it was not well written, but it was not my kinda of novel.
Book Review: Gypsies, Tramps and Weeia by Elle Boca
Rating:

Title & Author: Gypsies, Tramps and Weeia by Elle Boca
Genre: Fantasy, Adventure
Release Date: February 1 2016
Series: The Weeia Marshals
Publisher: Poyeen Publishing

Synopsis

Sworn to protect the secrets of their race, marshals are trained to police Weeia hiding among humans. After completing her advanced marshal training, Danni is blown away by her new plum assignment to Paris. But, all is not well in the City of Lights; the offices are a shambles, her boss is apathetic, and her predecessors died under mysterious circumstances; it's almost like somebody doesn't want the law there. Despite that she risks her life in the seedy underworld of gypsies and tramps to search for a missing Weeia man.
I gave Gypies, Tramps and Weeia by Elle Boca two out of five hearts. I think the writing is okay, like there are no big loopholes in the story. And I like the main character of Danni and a couple of characters more.
Danni is a great character, she does her best in everything she sets her mind to, like the saving of the man mentioned in the synopsis. For some weird reason I liked Tadas and his brother. They were very funny and interesting and I wished they had had a bigger part in this novel.
The biggest trouble I had with this novel was that it did not keep me. The story was "long", as in dragging. By the time I was 50 pages in, she had only just moved to Paris. By the time I was over a 150 pages in, only than the man is brought to her attention and some small things happen in between. I did not read the synopsis before I started reading, the title of the novel was enough to get me to read it. I was so interested in the Weeia! And not much was told about what they actually are, which I felt sad about, but maybe there is more info on them in Elle's other novels. I do not know.
One of the other things I was sad about is that there are a lot of mentions of something Danni's parents had done, or something. But nothing was actually explained. I kept hoping the entire story, but in vain.
Overall this novel is an okay read. If I rated the quality only I would have given it three or four stars, but it just wasn't my kind of story.
Let me know what you thought of this book!
If you have any requests for which book I should talk about next, please let me know in the comments down below.
Also, this post is part of a blog tour hosted by France Booktours and they are hosting a giveaway! Click here for that.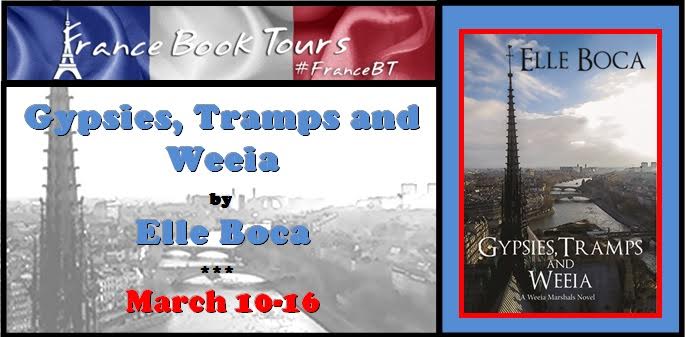 For now, let books enrich your life!