Book Releases November 2019
The second to last month of 2019 has come and oh my god what has this year gone by fast. I thought that having a baby it would slow down, but it completely didn't. But since Christmas is coming up, there are some good solid books being released this month.
The Starless Sea by Erin Morgenstern
Winterwood by Shea Ernshaw
Supernova (Renegates #3) by Marissa Meyer
Not the Girl You Marry by Andie J. Christopher
Queen of Nothing (Folk of the Air #3) by Holly Black

The Starless Sea by Erin Morgenstern (November 5)
Synopsis

Zachary Ezra Rawlins is a graduate student in Vermont when he discovers a mysterious book hidden in the stacks. As he turns the pages, entranced by tales of lovelorn prisoners, key collectors, and nameless acolytes, he reads something strange: a story from his own childhood. Bewildered by this inexplicable book and desperate to make sense of how his own life came to be recorded, Zachary uncovers a series of clues–a bee, a key, and a sword–that lead him to a masquerade party in New York, to a secret club, and through a doorway to an ancient library, hidden far below the surface of the earth.

What Zachary finds in this curious place is more than just a buried home for books and their guardians–it is a place of lost cities and seas, lovers who pass notes under doors and across time, and of stories whispered by the dead. Zachary learns of those who have sacrificed much to protect this realm, relinquishing their sight and their tongues to preserve this archive, and also those who are intent on its destruction.

Together with Mirabel, a fierce, pink-haired protector of the place, and Dorian, a handsome, barefoot man with shifting alliances, Zachary travels the twisting tunnels, darkened stairwells, crowded ballrooms, and sweetly-soaked shores of this magical world, discovering his purpose–in both the mysterious book and in his own life.
Finally a new book by Erin Morgenstern! I needed this in my life and I am curious if she can keep up the great work she did with The Night Circus.
---
Winterwood by Shea Ernshaw (November 5)
Synopsis

Be careful of the dark, dark wood . . .

Especially the woods surrounding the town of Fir Haven. Some say these woods are magical. Haunted, even.

Rumored to be a witch, only Nora Walker knows the truth. She and the Walker women before her have always shared a special connection with the woods. And it's this special connection that leads Nora to Oliver Huntsman—the same boy who disappeared from the Camp for Wayward Boys weeks ago—and in the middle of the worst snowstorm in years. He should be dead, but here he is alive, and left in the woods with no memory of the time he'd been missing.

But Nora can feel an uneasy shift in the woods at Oliver's presence. And it's not too long after that Nora realizes she has no choice but to unearth the truth behind how the boy she has come to care so deeply about survived his time in the forest, and what led him there in the first place. What Nora doesn't know, though, is that Oliver has secrets of his own—secrets he'll do anything to keep buried, because as it turns out, he wasn't the only one to have gone missing on that fateful night all those weeks ago.
I am still very curious after Shea Ernshaw. I still haven't even been able to read The Wicked Deep, but I will as soon as I get to it.
---
Supernova (Renegates #3) by Marissa Meyer (November 5)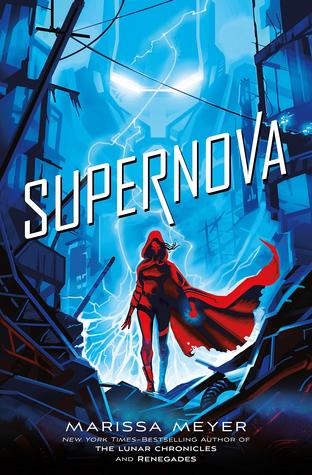 Synopsis

All's fair in love and anarchy…

The epic conclusion to Marissa Meyer's thrilling Renegades Trilogy finds Nova and Adrian struggling to keep their secret identities concealed while the battle rages on between their alter egos, their allies, and their greatest fears come to life. Secrets, lies, and betrayals are revealed as anarchy once again threatens to reclaim Gatlon City.
I love Marissa Meyer's writing and even though I have not read Renegates yet, I do believe Supernove will still be great.
---
Not the Girl You Marry by Andie J. Christopher (November 12)
Synopsis

Jack Nolan is a gentleman, a journalist, and unlucky in love. His viral success has pigeon-holed him as the how-to guy for a buzzy, internet media company instead of covering hard-hitting politics. Fed up with his fluffy articles and the app-based dating scene as well, he strikes a deal with his boss to write a final piece de resistance: How to Lose a Girl. Easier said than done when the girl he meets is Hannah Mayfield, and he's not sure he wants her to dump him.

Hannah is an extremely successful event planner who's focused on climbing the career ladder. Her firm is one of the most prestigious in the city, and she's determined to secure her next promotion. But Hannah has a bit of an image problem. She needs to show her boss that she has range, including planning dreaded, romantic weddings. Enter Jack. He's the perfect man to date for a couple weeks to prove to her boss that she's not scared of feelings.

Before Jack and Hannah know it, their fake relationship starts to feel all too real—and neither of them can stand to lose each other.
Not the Girl You Marry sounds super interesting. Nough said.
---
Queen of Nothing (Folk of the Air #3) by Holly Black (November 19)
Synopsis

He will be destruction of the crown and the ruination of the throne.

Power is much easier to acquire than it is to hold onto. Jude learned this lesson when she released her control over the wicked king, Cardan, in exchange for immeasurable power.

Now as the exiled mortal Queen of Faerie, Jude is powerless and left reeling from Cardan's betrayal. She bides her time determined to reclaim everything he took from her. Opportunity arrives in the form of her deceptive twin sister, Taryn, whose mortal life is in peril.

Jude must risk venturing back into the treacherous Faerie Court, and confront her lingering feelings for Cardan, if she wishes to save her sister. But Elfhame is not as she left it. War is brewing. As Jude slips deep within enemy lines she becomes ensnared in the conflict's bloody politics.

And, when a dormant yet powerful curse is unleashed, panic spreads throughout the land, forcing her to choose between her ambition and her humanity…
I am curious where Holly Black is taking this series and need to read this book.
---
Let me know what you thought of these books!
If you have any requests for which book I should talk about next, please let me know in the comments down below.
For now, let books enrich your life!