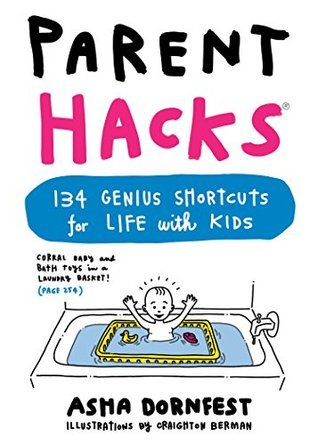 #ParentHacks
First of, to all my readers who know me in real life. No, this book has nothing to do with anything in my life. But yes, I am interested in getting kids. But I actually was looking for a good parenting book.
Book Review: Parent Hacks by Asha Dornfest
Rating: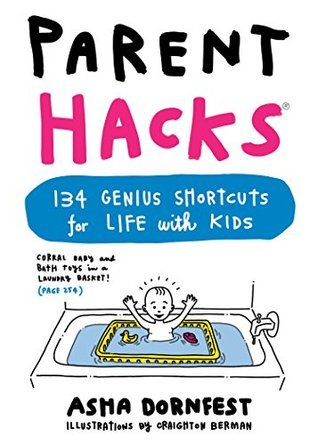 Title & Author: Parent Hacks by Asha Dornfest
Genre: Non-Fiction, Parenting
Release Date: April 5, 2016
Series: Standalone
Publisher: Workman Publishig Company

Synopsis

Drawing from the award-winning website ParentHacks.com, here are 134 ingenious ideas for simplifying life with kids.

A parent hack can be as simple as putting the ketchup under the hot dog, minimizing the mess. Or strapping baby into a forward-facing carrier when you need to trim his fingernails—it frees your hands while controlling the squirming. Or stashing a wallet in a disposable diaper at the beach—who would ever poke through what looks like a used Pamper?

On every page, discover easy-to-do, boldly illustrated, unconventional solutions, arranged by category from Pregnancy & Postpartum through Sleep, Eating, Bath Time, Travel, and more.
I give Parent Hacks by Asha Dornfest three out of five hearts, not because it is a bad book but because it is full of things a parent can figure out on their own. And it is not like you will have this book on hand to figure it out.
It gives you for example multiple usages of ziplock bags and painters tape. But you can figure that out! It's not that hard, be creative. The only thing that I have copied over was chores you can ask your toddler to do, because I would want to give my children things to do to help me in the household. It was funny to read and the hacks are real easy, but I find it is not worth buying a book over.
Let me know what you thought of this book!
If you have any requests for which book I should talk about next, please let me know in the comments down below.
For now, let books enrich your life!