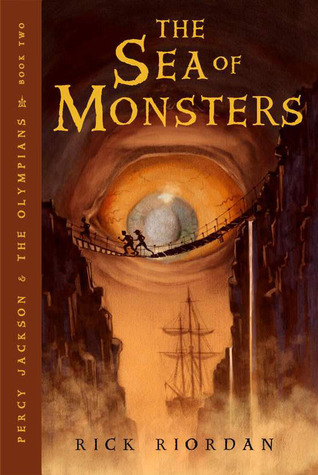 A guy in Greek armor drew his sword and charged, but slipped in a puddle of pina colada
So I did start on The Sea of Monster, even after hesitating after reading The Lightning Thief. This book has made me more interested in the series overall.
Book Review: The Sea of Monsters by Rick Riordan
Rating: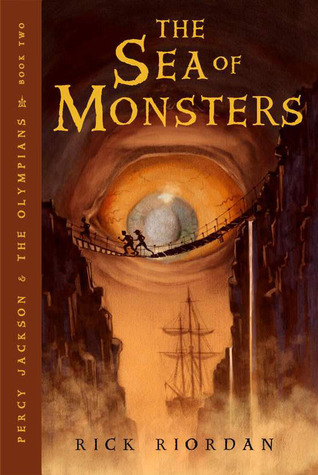 Title & Author: The Sea of Monsters by Rick Riordan
Genre: Adventure, Fantasy
Release Date: April 1 2006
Series: Percy Jackson and the Olympians
Publisher: Miramax Books

Synopsis

The heroic son of Poseidon makes an action-packed comeback in the second must-read installment of Rick Riordan's amazing young readers series. Starring Percy Jackson, a "half blood" whose mother is human and whose father is the God of the Sea, Riordan's series combines cliffhanger adventure and Greek mythology lessons that results in true page-turners that get better with each installment. In this episode, The Sea of Monsters, Percy sets out to retrieve the Golden Fleece before his summer camp is destroyed.
The Sea of Monsters started to get a bit better from The Lightning Thief, I still didn't like it extremely much, but did want to read more. It actually got me more interested in the series and wondering about what was to come.
I felt the characters from the last book did not grow that much over this book. Maybe Annabeth got a bit less whiny, which I liked. But the story was interesting.
A big character that got introduced was Tyson, Percy's halfbrother. I liked him, even though he sometimes really felt like an 8 year old. Also the relationship between Percy and Tyson is great.
The book is really funny and an easy read. So a very great middle grade book, just not for anymore older.
The Movie
In 2013 Percy Jackson: Sea of Monsters came out, of course I saw this before I read the book. My opinion of this movie is not changed by the book. The story was missing important aspects of the book. The acting was a bit better then The Lightnight Thief, but the CGI was just terrible at some points.
The movie stars Logan Lerman, Alexandra Daddario, Stanley Tucci and Nathan Fillion.
Let me know what you thought of this book( and/or movie)!
If you have any requests for which book I should talk about next, please let me know in the comments down below.
For now, let books enrich your life!