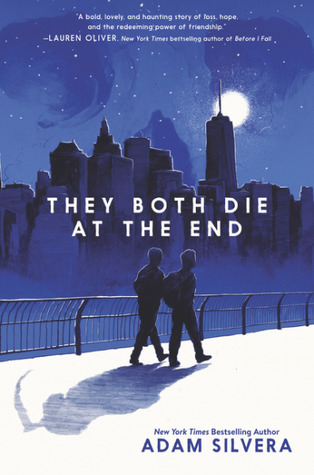 …stories can make someone immortal as long as someone else is willing to listen
I was worried this novel would be a romance with a bit of science-fiction, but it was completely not.
Book Review: They Both Die at the End by Adam Silvera
Rating: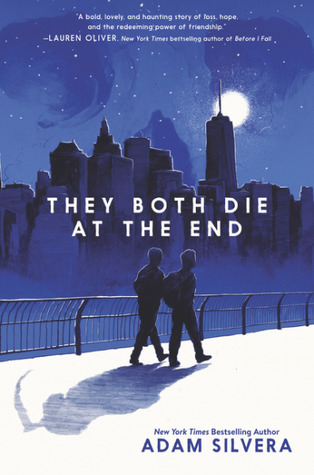 Title & Author: They Both Die at the End by Adam Silvera
Genre: Contemporary, Romance
Release Date: September 5, 2017
Series: Standalone
Publisher: HarperCollins

Synopsis

On September 5, a little after midnight, Death-Cast calls Mateo Torrez and Rufus Emeterio to give them some bad news: They're going to die today. Mateo and Rufus are total strangers, but, for different reasons, they're both looking to make a new friend on their End Day. The good news: There's an app for that. It's called the Last Friend, and through it, Rufus and Mateo are about to meet up for one last great adventure and to live a lifetime in a single day.
I give They Both Die at the End by Adam Silvera five out of five hearts because I loved it. The story is set in this world, but has the science-fiction element of having a company that will tell you that you will die that day and the app that goes with that. But expect for those points and the ramifications of that, it is a completely none fantasy story. The same goes for the romance, one could just leave that part out, because except for the last few pages it has nothing to do with the story.
Mateo is good boy, his father is in the hospital and when he receives the phone call, he decides to not burden him and says inside. Rufus is the bad boy, he gets the call when he is fighting, nearly bashing someones head in. He eventually gets Mateo out of the house and they spend a great day together, saying goodbye to everyone they love and in the mean time feeling happy.
I really loved the fact that even though you know how the novel ends, they entire novel consists of great new things that happen. And yes, SPOILER, they do fall in love in the end. But like literally in the last few pages.
Overall the story was very original and I really liked it. I hope you do.
Let me know what you thought of this book!
If you have any requests for which book I should talk about next, please let me know in the comments down below.
For now, let books enrich your life!