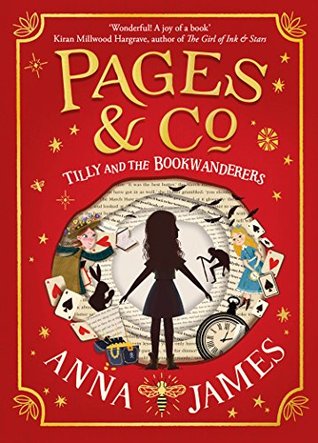 Anne with an E
I found Tilly and the Bookwanderers through a YouTube video of Anna and Sanne (Books & Quills) and I was intrigued. It is a really funny and intriguing story and worth all the hype Sanne and Anna gave it in that video.
Book Review: Tilly and the Bookwanderers by Anna James
Rating: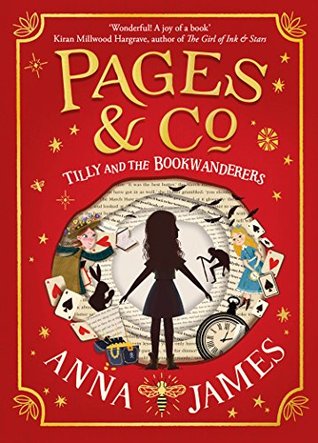 Title & Author: Tilly and the Bookwanderers by Anna James
Genre: Fantasy, Adventure
Release date: September 18 2018
Series: Pages & Co
Publisher: HarperCollins

Synopsis

Eleven year-old Tilly has lived above her grandparents' bookshop ever since her mother disappeared shortly after she was born. Like the rest of her family, Tilly loves nothing more than to escape into the pages of her favourite stories.

One day Tilly realises that classic children's characters are appearing in the shop through the magic of `book wandering' – crossing over from the page into real life.

With the help of Anne of Green Gables and Alice in Wonderland. Tilly is determined to solve the mystery of what happened to her mother all those years ago, so she bravely steps into the unknown, unsure of what adventure lies ahead and what dangers she may face.
I give Tilly and the Bookwanderers by Anna James five out of five hearts because I loved it. It is well written and even though it is a children's book, not too predictable. It is very airy and not too serious, which works.
Tilly is as curious as her namesake, Mathilda by Roald Dahl. She is such a happy girl and she doesn't let herself be stopped by adults, which is great. Her grandparents are caring and want to protect her from the big bad world out there, but when she comes with a crazy story they trust she is right and not lying. I love the way they treat the young girl.
Oscar is Tilly's dyslectic friend who gets pulled into the story by her. It's great how he responds because he tries to stay reasonable, but has to give in when he gets pulled into Anne of Green Gables.
I loved Anna's use of the older books with which she grew up. I might not have grown up with the same children's books, but I did catch up on most of them in later life. This way I can see her lovely writing and not get disrupted by all the characters I might not know. Because that is one of the things one will run into when reading this book because of all the references. Anna James is a great author and I am looking forward to anything else she might publish in the future.
Let me know what you thought of this book!
If you have any requests for which book I should talk about next, please let me know in the comments down below.
For now, let books enrich your life!