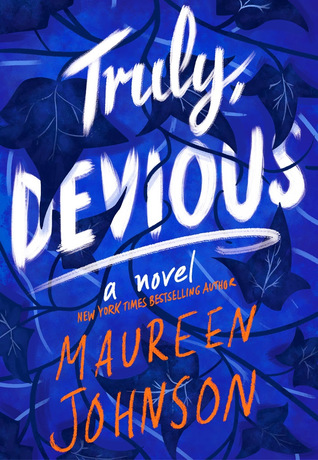 There is nothing so serious as a game
I had never read anything by Maureen Johnson except for short stories she co-wrote with Cassandra Clare. I think she has great potential as an author. But it wasn't as great as I had hoped.
Book Review: Truly Devious by Maureen Johnson
Rating: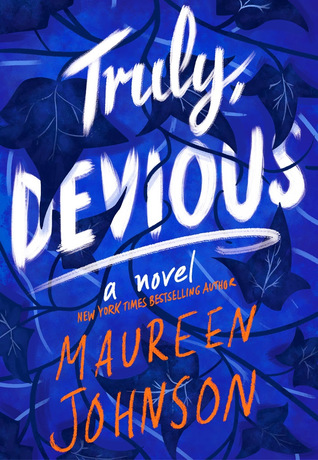 Title & Author: Truly Devious by Maureen Johnson
Genre: Mystery, Contemporary
Release Date: January 16 2018
Series: Truly Devious
Publisher: HarperCollins

Synopsis

Ellingham Academy is a famous private school in Vermont for the brightest thinkers, inventors, and artists. It was founded by Albert Ellingham, an early twentieth century tycoon, who wanted to make a wonderful place full of riddles, twisting pathways, and gardens. "A place," he said, "where learning is a game."
Shortly after the school opened, his wife and daughter were kidnapped. The only real clue was a mocking riddle listing methods of murder, signed with the frightening pseudonym "Truly, Devious." It became one of the great unsolved crimes of American history.
True-crime aficionado Stevie Bell is set to begin her first year at Ellingham Academy, and she has an ambitious plan: She will solve this cold case. That is, she will solve the case when she gets a grip on her demanding new school life and her housemates: the inventor, the novelist, the actor, the artist, and the jokester. But something strange is happening. Truly Devious makes a surprise return, and death revisits Ellingham Academy. The past has crawled out of its grave. Someone has gotten away with murder.
I give Truly Devious by Maureen Johnson three out of five hearts. I loved the first half on the book, the last half not so much. It made me feel really sad because I thought the novel was great until that point.
Basically the turning point for me was after the death of one of Stevie's housemates. The death felt a bit out of the blue and from that point on the story is mostly about that death instead of the initial dissapearance of Alice and Iris Ellingham.
I had hoped to get more on the Ellingham case, because I thought it was much more interesting than the death of the side character. It kept me interested in the story in the current timeline because I hoped Stevie would finally solve it.
Stevie was a great lead. She is interesting and curious. She is funny and has a charm. I do think she is made more interesting in the setting she is in. It wouldn't have felt as well done as it was if it had been her at her home, with her parents etc. Because those weren't very interesting and felt a bit forced in. I would have liked it more if Stevie's anxiety was a bit more prominent, because it sometimes felt a bit like it was never there. I know in real life it is more like this, but it made me question why Maureen made Stevie have anxiety issues. I was happy the romance in this novel was kept to a minimum.
David, Stevie's romantic interest, is like a wild mouse coast. He has some actions that I question on whether he is a real person or someone who you could call a 'mirror' (someone who will looks to be the person you want him/her to be and adepts to everyone and every moment). He was a lot of the times right there were Stevie needed someone to push her in the right direction.
Overall I think I will keep reading this series, but I really dislike it when a first part in a series ends with an unfinished story. The story has potential and I am curious on whether Stevie will solve both the cases, the one from the past and the present.
Let me know what you thought of this book!
If you have any requests for which book I should talk about next, please let me know in the comments down below.
For now, let books enrich your life!