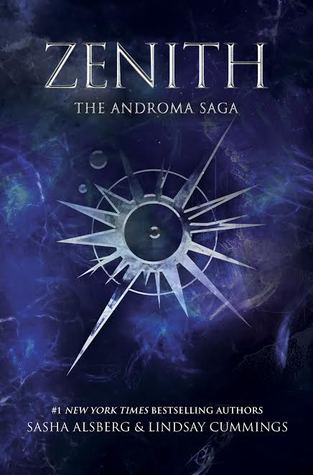 I enjoy flirting with death
Some time ago I read the 62 page ebook that was Zenith. I thought it had potential and wanted to read the finished product. For me it fell flat, fast and hard.
Book Review: Zenith by Sasha Alsberg & Lindsay Cummings
Rating: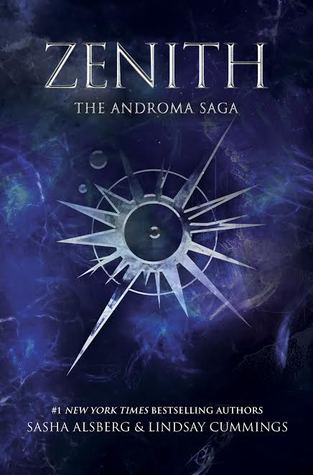 Title & Author: Zenith by Sasha Alsberg & Lindsay Cummings
Genre: Science-Fiction, Adventure
Release Date: January 16, 2018
Series: The Androma Saga
Publisher: Harlequin

Synopsis

Most know Androma Racella as the Bloody Baroness, a powerful mercenary whose reign of terror stretches across the Mirabel Galaxy. To those aboard her glass starship, Marauder, however, she's just Andi, their friend and fearless leader.

But when a routine mission goes awry, the Marauder's all-girl crew is tested as they find themselves in a treacherous situation and at the mercy of a sadistic bounty hunter from Andi's past.

Meanwhile, across the galaxy, a ruthless ruler waits in the shadows of the planet Xen Ptera, biding her time to exact revenge for the destruction of her people. The pieces of her deadly plan are about to fall into place, unleashing a plot that will tear Mirabel in two.

Andi and her crew embark on a dangerous, soul-testing journey that could restore order to their shipor just as easily start a war that will devour worlds. As the Marauder hurtles toward the unknown, and Mirabel hangs in the balance, the only certainty is that in a galaxy run on lies and illusion, no one can be trusted.
I give Zenith by Sasha Alsberg and Lindsay Cummings three out of five hearts because it had so much potential and it fell flat.
The start of the novel was pretty slow, but it tried so hard and after a little while I it even caught my interested, but soon after that it fell again and I couldn't be bothered to finish it if I stopped reading. The story really felt like it had the potential to be the epic space opera I had hoped it would be, but it wasn't.
Most of the story was so unremarkable I already forgot what really happened. I feel sad this has happened because I really thought it had potential and wished Sasha and Lindsay the best.
I thought the cast of misfit female space pirates was great, I mostly liked the others because I didn't care for Androma. Yes she is sad because she lost a friend and now is being chased? I completely lost track of all the characters and was convinced the princess she was friends with was still with her and Dextro was chasing her because he thought she was dead
I could notice Lindsay and Sasha did their best to have well developed characters but I felt that they were not giving enough information for the characters to come of the paper and they stayed as flat as the pages themselves.
Overall this story has lots of potential, but it doesn't use it. It has well developed characters but again not used. It just sometimes happens.
Let me know what you thought of this book!
If you have any requests for which book I should talk about next, please let me know in the comments down below.
For now, let books enrich your life!