Book Releases April 2019
Wow, the first quarter of the year has already flown by.
The Princess and the Fangirl (Once Upon a Con #2) by Ashley Poston
The Red Scrolls of Magic (The Eldest Curses #1) by Cassandra Clare
Wicked Saints (Something Dark and Holy #1) by Emily A. Duncan
Scar (The Skin Books #3) by Alice Broadway
Lady Smoke (Ash Princess #2) by Laura Sebastian
Descendant of the Crane by Joan He
The Raven's Tale by Cat Winters

The Princess and the Fangirl (Once Upon a Con #2) by Ashley Poston (April 2)
Synopsis

Imogen Lovelace is an ordinary fangirl on an impossible mission: save her favorite character, Princess Amara, from being killed off from her favorite franchise, Starfield. The problem is, Jessica Stone—the actress who plays Princess Amara—wants nothing more than to leave the intense scrutiny of the fandom behind. If this year's ExcelsiCon isn't her last, she'll consider her career derailed.

When a case of mistaken identity throws look-a-likes Imogen and Jess together, they quickly become enemies. But when the script for the Starfield sequel leaks, and all signs point to Jess, she and Imogen must trade places to find the person responsible. That's easier said than done when the girls step into each other's shoes and discover new romantic possibilities, as well as the other side of intense fandom. As these "princesses" race to find the script-leaker, they must rescue themselves from their own expectations, and redefine what it means to live happily ever after.
I loved Geekerella and would love to see what Ashley Poston does while she stays in this world. It is already on my tbr for the coming month, so a review will be up soon.
---
The Red Scrolls of Magic (The Eldest Curses #1) by Cassandra Clare (April 2)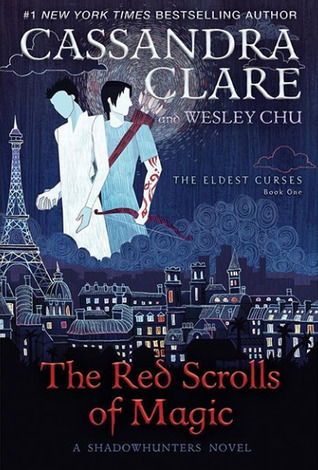 Synopsis

All Magnus Bane wanted was a vacation—a lavish trip across Europe with Alec Lightwood, the Shadowhunter who against all odds is finally his boyfriend. But as soon as the pair settles in Paris, an old friend arrives with news about a demon-worshipping cult called the Crimson Hand that is bent on causing chaos around the world. A cult that was apparently founded by Magnus himself. Years ago. As a joke.

Now Magnus and Alec must race across Europe to track down the Crimson Hand and its elusive new leader before the cult can cause any more damage. As if it wasn't bad enough that their romantic getaway has been sidetracked, demons are now dogging their every step, and it is becoming harder to tell friend from foe. As their quest for answers becomes increasingly dire, Magnus and Alec will have to trust each other more than ever—even if it means revealing the secrets they've both been keeping.
Even though I am done with the whole Shadowhunter world, I am curious if Cassandra Clare can give us a convincing gay story while staying true to the Shadowhunters.
---
Wicked Saints (Something Dark and Holy #1) by Emily A. Duncan (April 2)
Synopsis

A girl who can speak to gods must save her people without destroying herself.

A prince in danger must decide who to trust.

A boy with a monstrous secret waits in the wings.

Together, they must assassinate the king and stop the war.

In a centuries-long war where beauty and brutality meet, their three paths entwine in a shadowy world of spilled blood and mysterious saints, where a forbidden romance threatens to tip the scales between dark and light. Wicked Saints is the thrilling start to Emily A. Duncan's devastatingly Gothic Something Dark and Holy trilogy..
Wicked Saints sounds super interesting, whatelse can I say.
---
Scar (The Skin Books #3) by Alice Broadway (April 4)
Synopsis

NK taught Leora that all was not what it seems on the surface.
SPARK taught her that there are two sides to every story.
Now Leora has had enough of lessons – she wants to make her own story.
The explosive finale to the best-selling INK trilogy sees Leora struggling to reconcile her past and her future – and recognising that there may be no easy answers.
I loved Ink, I haven't gotten to Spark yet. But that still doesn't make the release of Scar less important.
---
Lady Smoke (Ash Princess #2) by Laura Sebastian (April 5)
Synopsis

The Kaiser murdered Theodosia's mother, the Fire Queen, when Theo was only six. He took Theo's country and kept her prisoner, crowning her Ash Princess–a pet to toy with and humiliate for ten long years. That era has ended. The Kaiser thought his prisoner weak and defenseless. He didn't realize that a sharp mind is the deadliest weapon.

Theo no longer wears a crown of ashes. She has taken back her rightful title, and a hostage–Prinz Soren. But her people remain enslaved under the Kaiser's rule, and now she is thousands of miles away from them and her throne.

To get them back, she will need an army. Only, securing an army means she must trust her aunt, the dreaded pirate Dragonsbane. And according to Dragonsbane, an army can only be produced if Theo takes a husband. Something an Astrean Queen has never done.

Theo knows that freedom comes at a price, but she is determined to find a way to save her country without losing herself.
Even though I haven't gotten to Ash Princess yet, I am very interested in Lady Smoke and really hope I can get to reading the first book soon. So who knows.
---
Descendant of the Crane by Joan He (April 9)
Synopsis

Princess Hesina of Yan has always been eager to shirk the responsibilities of the crown, dreaming of an unremarkable life. But when her beloved father is found dead, she's thrust into power, suddenly the queen of a surprisingly unstable kingdom. What's more, Hesina believes that her father was murdered—and that the killer is someone close to her.

Hesina's court is packed full of dissemblers and deceivers eager to use the king's death for political gain, each as plausibly guilty as the next. Her advisers would like her to blame the neighboring kingdom of Kendi'a, whose ruler has been mustering for war. Determined to find her father's actual killer, Hesina does something desperate: she enlists the aid of a soothsayer—a treasonous act, punishable by
death, since magic was outlawed centuries ago.

Using the information provided by the sooth, and uncertain if she can trust her family, Hesina turns to Akira—a brilliant investigator who's also a convicted criminal with secrets of his own. With the future of Yan at stake, can Hesina find justice for her father? Or will the cost be too high?
I have heard great things about Descendant of the Crane and the synopsis sounds super. So let's do this.
The Raven's Tale by Cat Winters (April 16)
Synopsis

Seventeen-year-old Edgar Poe counts down the days until he can escape his foster family—the wealthy Allans of Richmond, Virginia. He hungers for his upcoming life as a student at the prestigious new university, almost as much as he longs to marry his beloved Elmira Royster. However, on the brink of his departure, all his plans go awry when a macabre Muse named Lenore appears to him. Muses are frightful creatures that lead Artists down a path of ruin and disgrace, and no respectable person could possibly understand or accept them. But Lenore steps out of the shadows with one request: "Let them see me!"
I have never read anything by Cat Winters, but I hear she writes well. The Raven's Tale sounds super.
---
Let me know what you thought of these books!
If you have any requests for which book I should talk about next, please let me know in the comments down below.
For now, let books enrich your life!