Book Releases December 2020
The end of the year already! Let's hope for a better 2021. I wish you all a happy festive season and I hope to be back in January 2021 with reviews and other posts, so fingers crossed I can get my lazy fingers to type them out. These are the books I am looking for in December 2020.
The Cousins by Karen M. McManus
A Sky Beyond the Storm (An Ember in the Ashes #4) by Sabaa Tahir
This is How We Fly by Anna Meriano
The Notorious Virtues by Alwyn Hamilton

The Cousins by Karen M. McManus (December 1)
Synopsis

Milly, Aubrey, and Jonah Story are cousins, but they barely know each another, and they've never even met their grandmother. Rich and reclusive, she disinherited their parents before they were born. So when they each receive a letter inviting them to work at her island resort for the summer, they're surprised . . . and curious.

Their parents are all clear on one point—not going is not an option. This could be the opportunity to get back into Grandmother's good graces. But when the cousins arrive on the island, it's immediately clear that she has different plans for them. And the longer they stay, the more they realize how mysterious—and dark—their family's past is.

The entire Story family has secrets. Whatever pulled them apart years ago isn't over—and this summer, the cousins will learn everything.
So far I really liked Karen M. McManus' books and from what I read I will love The Cousins too. I'll probably won't have quick access to it this time, so it will take a bit before I can review it.
---
A Sky Beyond the Storm (An Ember in the Ashes #4) by Sabaa Tahir (December 1)
Synopsis

The long-imprisoned jinn are on the attack, wreaking bloody havoc in villages and cities alike. But for the Nightbringer, vengeance on his human foes is just the beginning.

At his side, Commandant Keris Veturia declares herself Empress, and calls for the heads of any and all who defy her rule. At the top of the list? The Blood Shrike and her remaining family.

Laia of Serra, now allied with the Blood Shrike, struggles to recover from the loss of the two people most important to her. Determined to stop the approaching apocalypse, she throws herself into the destruction of the Nightbringer. In the process, she awakens an ancient power that could lead her to victory–or to an unimaginable doom.

And deep in the Waiting Place, the Soul Catcher seeks only to forget the life–and love–he left behind. Yet doing so means ignoring the trail of murder left by the Nightbringer and his jinn. To uphold his oath and protect the human world from the supernatural, the Soul Catcher must look beyond the borders of his own land. He must take on a mission that could save–or destroy–all that he knows.
Finally! The final novel in The Ember in the Ashes series is here. A Sky Beyond the Storm has been on my list ever since I finished A Reaper at the Gates.
---
This is How We Fly by Anna Meriano (December 15)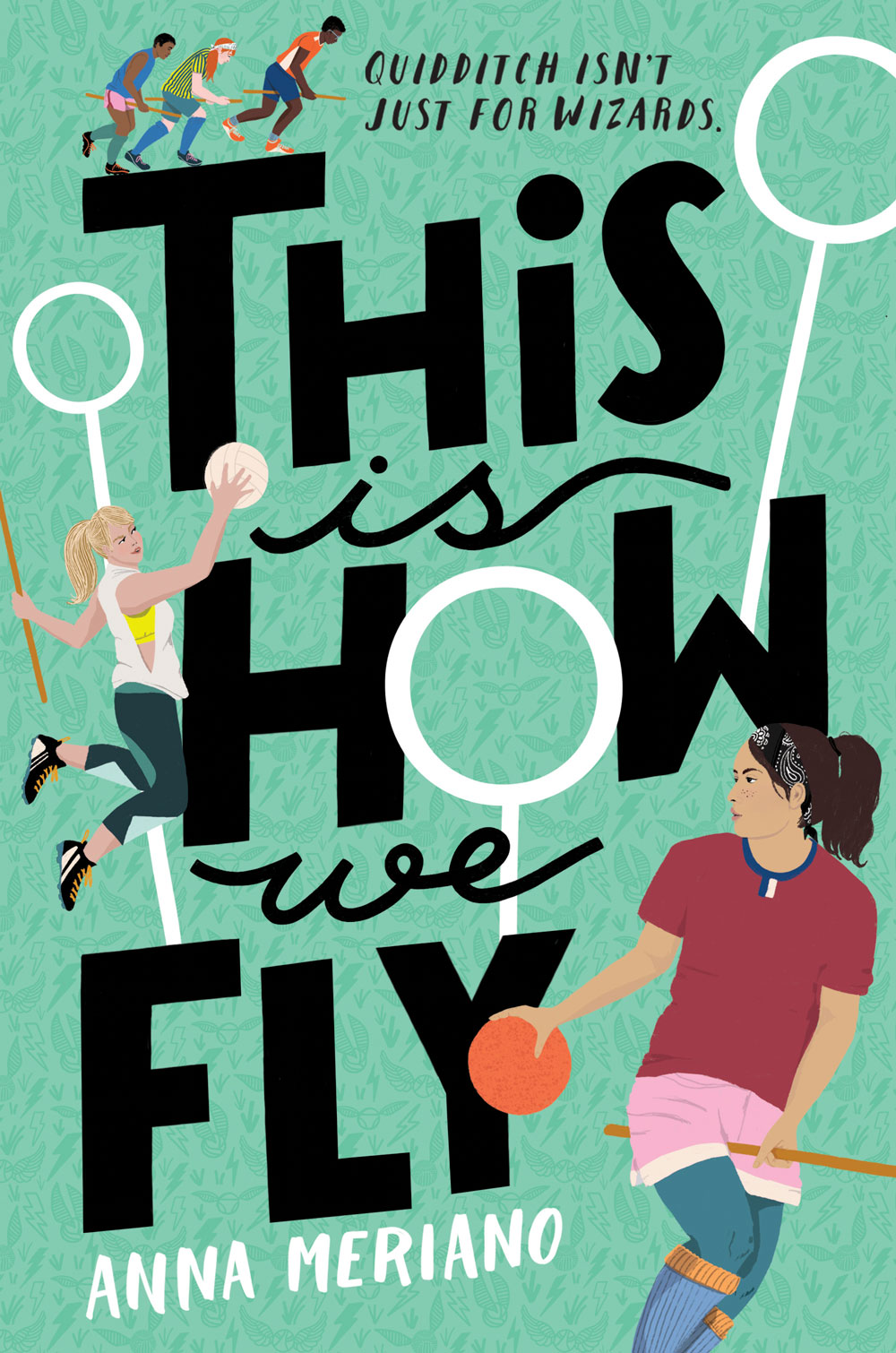 Synopsis

17-year-old vegan feminist Ellen Lopez-Rourke has one muggy Houston summer left before college. She plans to spend every last moment with her two best friends before they go off to the opposite ends of Texas for school. But when Ellen is grounded for the entire summer by her (sometimes) evil stepmother, all her plans are thrown out the window.

Determined to do something with her time, Ellen (with the help of BFF Melissa) convinces her parents to let her join the local muggle Quidditch team. An all-gender, full-contact game, Quidditch isn't quite what Ellen expects. There's no flying, no magic, just a bunch of scrappy players holding PVC pipe between their legs and throwing dodgeballs. Suddenly Ellen is thrown into the very different world of sports: her life is all practices, training, and running with a group of Harry Potter fans.

Even as Melissa pulls away to pursue new relationships and their other BFF Xiumiao seems more interested in moving on from high school (and from Ellen), Ellen is steadily finding a place among her teammates. Maybe Quidditch is where she belongs.

But with her home life and friend troubles quickly spinning out of control–Ellen must fight for the future that she wants, now she's playing for keeps.
This is How We Fly sounds like such a quirky and fun read. I follow Anna on Twitter and she sounds like a fun person too, so I will definitely be supporting her.
---
The Notorious Virtues by Alwyn Hamilton (December 18)
Synopsis

A glamorous media darling, a surprise heiress, and the magical competition of a lifetime.

At sixteen, Honora "Nora" Holtzfall is the daughter of the most powerful heiress in all of Walstad. Her family controls all the money–and all the magic–in the entire country. But despite being the center of attention, Nora has always felt like an outsider. When her mother is found dead in an alley, the family throne and fortune are suddenly up for grabs, and Nora will be pitted against her cousins in the Veritaz, the ultimate magical competition for power that determines the one family heir.

But there's a surprise contestant this time: Lotte, the illegitimate daughter of Nora's aunt. When Lotte's absent mother retrieves her from the rural convent she'd abandoned her to, Lotte goes from being an orphan to surrounded by family. Unfortunately, most of them want her dead.

And soon, Nora discovers that her mother's death wasn't random–it was murder. And the only person she can trust to uncover the truth of what happened is a rakish young reporter who despises everything Nora and her family stand for.

With everyone against her, Lotte's last hope is hunting for the identity of her father. But the dangerous competition–and her feelings for Theo, one of the Holtzfalls' sworn protectors–turns her world upside down.

Incredible tests, impossible choices and deadly odds await both girls. But there can only be one winner.
I liked Alwyn Hamilton's Rebel of the Sands so I am hoping The Notorious Virtues will be just as fun, original and good to read.
---
Let me know what you thought of these books!
If you have any requests for which book I should talk about next, please let me know in the comments down below.
For now, let books enrich your life!