Book Releases February 2019
As usual time is flying by and 2019 is already thirty one days old. February is just as excited with its releases as February and these are the ones I am most looking forward to.
Courting Darkness (Courting Darkness #1) by Robin LaFevers
Fame, Fate, and the First Kiss by Kasie West
On the Come Up by Angie Thomas
Early Riser by Jasper Fforde
Honor Bound (The Honors #2) by Ann Aguirre & Rachel Caine
Just for Clicks by Kara McDowell
The Priory of the Orange Tree by Samantha Shannon
Four Dead Queens by Astrid Scholte

Courting Darkness (Courting Darkness #1) by Robin LaFevers (February 5)
Synopsis

Death wasn't the end, it was only the beginning…

Sybella has always been the darkest of Death's daughters, trained at the convent of Saint Mortain to serve as his justice. But she has a new mission now. In a desperate bid to keep her two youngest sisters safe from the family that nearly destroyed them all, she agrees to accompany the duchess to France, where they quickly find themselves surrounded by enemies. Their one ray of hope is Sybella's fellow novitiates, disguised and hidden deep in the French court years ago by the convent—provided Sybella can find them.

Genevieve has been undercover for so many years, she struggles to remember who she is or what she's supposed to be fighting for. Her only solace is a hidden prisoner who appears all but forgotten by his guards. When tragedy strikes, she has no choice but to take matters into her own hands—even if it means ignoring the long awaited orders from the convent.

As Sybella and Gen's paths draw ever closer, the fate of everything they hold sacred rests on a knife's edge. Will they find each other in time, or will their worlds collide, destroying everything they care about?
I love Robin's previous trilogy so when I heard she was writing a new duology in the same universe I was super happy. I am very curious if Robin LeFevers can keep up the great work she started in Grave Mercy and carry it over into Courting Darkness.
Fame, Fate, and the First Kiss by Kasie West (February 5)
Synopsis

Lacey Barnes has dreamt of being in a movie for as long as she can remember. However, while her dream did include working alongside the hottest actor in Hollywood, it didn't involve having to finish up her senior year of high school at the same time she was getting her big break. Although that is nothing compared to Donavan, the straight-laced student her father hires to tutor her, who is a full-on nightmare.

As Lacey struggles to juggle her burgeoning career, some on-set sabotage, and an off-screen romance with the unlikeliest of leading men, she quickly learns that sometimes the best stories happen when you go off script.
I have been liking Kasie West's writing and am curious what she is giving us this time. I am planning on reading this as soon as I can get my hands on in and also her books she has written before.
On the Come Up by Angie Thomas (February 5)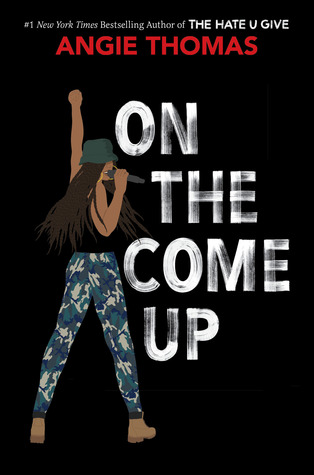 Synopsis

Sixteen-year-old Bri wants to be one of the greatest rappers of all time. Or at least make it out of her neighborhood one day. As the daughter of an underground rap legend who died before he hit big, Bri's got big shoes to fill. But now that her mom has unexpectedly lost her job, food banks and shutoff notices are as much a part of Bri's life as beats and rhymes. With bills piling up and homelessness staring her family down, Bri no longer just wants to make it—she has to make it.
I still haven't read The Hate You Give, but I do believe it is a well written story. Which makes me curious about On the Come Up.
Early Riser by Jasper Fforde (February 12)
Synopsis

Every Winter, the human population hibernates.

During those bitterly cold four months, the nation is a snow-draped landscape of desolate loneliness, devoid of human activity.

Well, not quite .

Your name is Charlie Worthing and it's your first season with the Winter Consuls, the committed but mildly unhinged group of misfits who are responsible for ensuring the hibernatory safe passage of the sleeping masses.

You are investigating an outbreak of viral dreams which you dismiss as nonsense; nothing more than a quirky artefact borne of the sleeping mind.

When the dreams start to kill people, it's unsettling.

When you get the dreams too, it's weird.

When they start to come true, you begin to doubt your sanity.

But teasing truth from the Winter is never easy: You have to avoid the Villains and their penchant for murder, kidnapping, and stamp collecting, ensure you aren't eaten by Nightwalkers, whose thirst for human flesh can only be satisfied by comfort food, and sidestep the increasingly less-than-mythical WinterVolk.

But so long as you remember to wrap up warmly, you'll be fine.
I have never heard of Jasper Fforde, but Early Riser sounds very interesting and it spiked my curiosity.
Honor Bound (The Honors #2) by Ann Aguirre & Rachel Caine (February 19)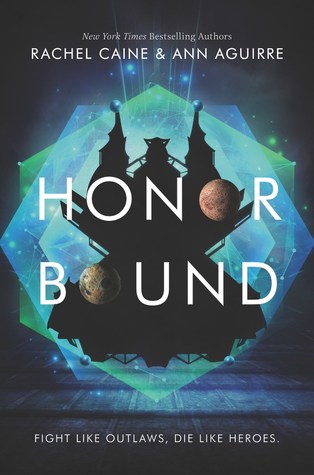 Synopsis

Zara Cole was a thief back on Earth, but she's been recently upgraded to intergalactic fugitive. On the run after a bloody battle in a covert war that she never expected to be fighting, Zara, her co-pilot Beatriz, and their Leviathan ship Nadim barely escaped the carnage with their lives. Now Zara and her crew of Honors need a safe haven, far from the creatures who want to annihilate them. But with two wounded Leviathan to treat, plus human and non-human refugees to help, they'll have to settle for the nearest outpost, called the Sliver: a wild, dangerous warren of alien criminals. Zara's skills from the Zone may be invaluable. However, Zara discovers that the secrets of the Sliver may have the power to turn the tide of the war they left behind—but in the wrong direction. Soon Zara will have to make a choice: stand against the ultimate evil or run from it. But she's never walked away from a fight.
I liked Honor Among Thieves very much and I looking forward to see where Ann Aguirre and Rachel Caine have taken Zara and her friends.
Just for Clicks by Kara McDowell (February 19)
Synopsis

Mommy blogs are great . . . unless the blog happens to belong to your mom.

Twin sisters Claire & Poppy are accidental social media stars thanks to Mom going viral when they were babies. Now, as teens, they're expected to contribute by building their own brand. Attending a NY fashion week and receiving fan mail is a blast. Fending off internet trolls and would-be kidnappers? Not so much. Poppy embraces it. Claire hates it. Will anybody accept her as "just Claire"? And what should Claire do about Mom's old journals? The handwritten entries definitely don't sound like Mom's perfect blog persona. Worse, one of them divulges a secret that leaves Claire wondering what else in her life might be nothing but a sham . . .
I like the synopsis of Just for Clicks, I was actually disappointed to see I still had to wait for weeks before I could read it. I am curious how this book is going to end even though it sounds a bit predictable.
The Priory of the Orange Tree by Samantha Shannon (February 26)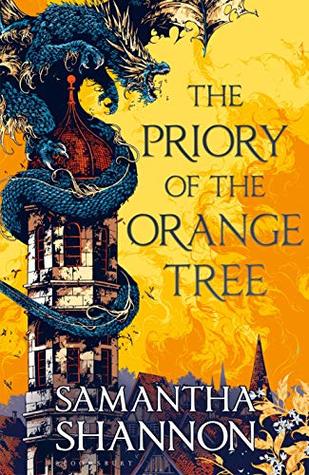 Synopsis

A world divided.
A queendom without an heir.
An ancient enemy awakens.

The House of Berethnet has ruled Inys for a thousand years. Still unwed, Queen Sabran the Ninth must conceive a daughter to protect her realm from destruction–but assassins are getting closer to her door.

Ead Duryan is an outsider at court. Though she has risen to the position of lady-in-waiting, she is loyal to a hidden society of mages. Ead keeps a watchful eye on Sabran, secretly protecting her with forbidden magic.

Across the dark sea, Tané has trained all her life to be a dragonrider, but is forced to make a choice that could see her life unravel.

Meanwhile, the divided East and West refuse to parley, and forces of chaos are rising from their sleep.
I loved the beginning of The Bone Season even though I never got to finish it and it is still on my list to pick up whenever I get to it. When I heard about The Priory of the Orange Tree I got desperate to finish The Bone Season, I still haven't started on it yet again, but I will still be ordering The Priory of the Orange Tree.
Four Dead Queens by Astrid Scholte (February 26)
Synopsis

A divided nation. Four Queens. A ruthless pickpocket. A noble messenger. And the murders that unite them.
​
Get in quick, get out quicker.

These are the words Keralie Corrington lives by as the preeminent dipper in the Concord, the central area uniting the four quadrants of Quadara. She steals under the guidance of her mentor Mackiel, who runs a black market selling their bounty to buyers desperate for what they can't get in their own quarter. For in the nation of Quadara, each quarter is strictly divided from the other. Four queens rule together, one from each region:

Toria: the intellectual quarter that values education and ambition
Ludia: the pleasure quarter that values celebration, passion, and entertainment
Archia: the agricultural quarter that values simplicity and nature
Eonia: the futurist quarter that values technology, stoicism and harmonious community

When Keralie intercepts a comm disk coming from the House of Concord, what seems like a standard job goes horribly wrong. Upon watching the comm disks, Keralie sees all four queens murdered in four brutal ways. Hoping that discovering the intended recipient will reveal the culprit – information that is bound to be valuable bartering material with the palace – Keralie teams up with Varin Bollt, the Eonist messenger she stole from, to complete Varin's original job and see where it takes them.
I have been looking forward to this book ever since I found Astrid on Twitter. I already feel like I know these characters, just from her Tweets and it is pretty interesting.
Let me know what you thought of these books!
If you have any requests for which book I should talk about next, please let me know in the comments down below.
For now, let books enrich your life!