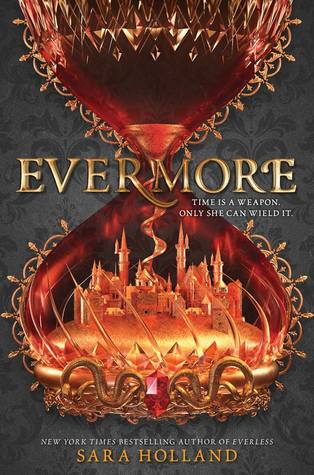 The only way to kill pure evil is with pure love
I have been looking forward to reading Evermore for almost an entire year and unfortunately, it didn't live up to its predecessor.
Book Review: Evermore by Sara Holland
Rating: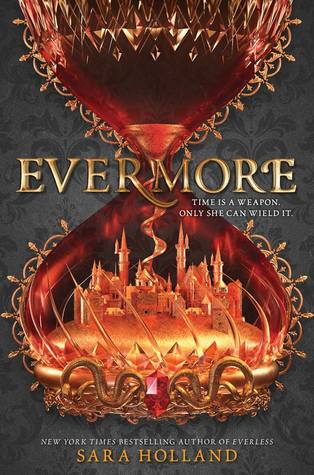 Title & Author: Evermore by Sara Holland
Genre: Fantasy, Adventure
Release date: December 31 2018
Series: Everless
Publisher: HarperCollins

Synopsis

Jules Ember was raised hearing legends of the ancient magic of the wicked Alchemist and the good Sorceress. But she has just learned the truth: not only are the stories true, but she herself is the Alchemist, and Caro—a woman who single-handedly murdered the Queen and Jules's first love, Roan, in cold blood—is the Sorceress.

The whole kingdom believes that Jules is responsible for the murders, and a hefty bounty has been placed on her head. And Caro is intent on destroying Jules, who stole her heart twelve lifetimes ago. Jules must delve into the stories that she now recognizes are accounts of her own past. For it is only by piecing together the mysteries of her lives that Jules will be able to save the person who has captured her own heart in this one.
I give Evermore by Sara Holland four out of five hearts because I didn't like it as much as Everless. I thought it was a little bit of a mess and it was hard to follow at some points. It wasn't even that I had high hopes for it or anything, but I was looking forward to it.
Jules is on the run since the end of Everless. I had some problems remembering what happened in Everless, but this novel actually had little clues to remind you about it. So I was quickly caught up on who was who and what happened.
Evermore has plenty of action, which might be why I didn't like it as much. I would have liked some moments of peace and quiet too. Every time that Jules went through something, the next thing already came knocking and I think she could have done with a little bit less.
I liked the relationship between Jules and Ina, but it could have been done better. Just like how for me the entire romance could have been left out of the book and it would have made me like this book even better.
Overall I still think Everless is much better than Evermore and I am happy this series is now done. My advice to Sara would be to stick to standalone books, maybe those work better for her.
Let me know what you thought of this book!
If you have any requests for which book I should talk about next, please let me know in the comments down below.
For now, let books enrich your life!