Book Releases January 2018
The year is closing itself off today. Tomorrow is a new year and another month. Looking forward to the future scares the bejezus out of me right now, but looking for these books makes me a little bit less scared.
Batman: Nightwalker (DC Icons #2) – Marie Lu
The Cruel Prince (The Folk of the Air #1) – Holly Black
Everless – Sara Holland
Unearthed (Unearthed #1) – Amie Kaufman & Meagan Spooner
Iron Gold (Red Rising Saga #4) – Pierce Brown
Truly Devious (Truly Devious #1) – Maureen Johnson
Zenith (The Androma Saga #1) – Sasha Alsberg & Lindsay Cummings
Reign of the Fallen – Sarah Glenn Marsh
Gone Rogue (Wires & Nerves #2) – Marissa Meyer
Reign the Earth (The Elementae #1) – A.C. Gaughen
The Hazel Wood – Melissa Albert

Batman: Nightwalker (DC Icons #2) by Marie Lu (January 2)
Synopsis

Before he was Batman, he was Bruce Wayne. A reckless boy willing to break the rules for a girl who may be his worst enemy.

The Nightwalkers are terrorizing Gotham City, and Bruce Wayne is next on their list.

One by one, the city's elites are being executed as their mansions' security systems turn against them, trapping them like prey. Meanwhile, Bruce is turning eighteen and about to inherit his family's fortune, not to mention the keys to Wayne Enterprises and all the tech gadgetry his heart could ever desire. But after a run-in with the police, he's forced to do community service at Arkham Asylum, the infamous prison that holds the city's most brutal criminals.

Madeleine Wallace is a brilliant killer . . . and Bruce's only hope.

In Arkham, Bruce meets Madeleine, a brilliant girl with ties to the Nightwalkers. What is she hiding? And why will she speak only to Bruce? Madeleine is the mystery Bruce must unravel. But is he getting her to divulge her secrets, or is he feeding her the information she needs to bring Gotham City to its knees? Bruce will walk the dark line between trust and betrayal as the Nightwalkers circle closer.
I loved the Legend series by Marie Lu and Wonder Woman: Warbringer by Leigh Bardugo so I can already guess that Batman: Nightwalker will be great again.
---
The Cruel Prince (The Folk of the Air #1) by Holly Black (January 2)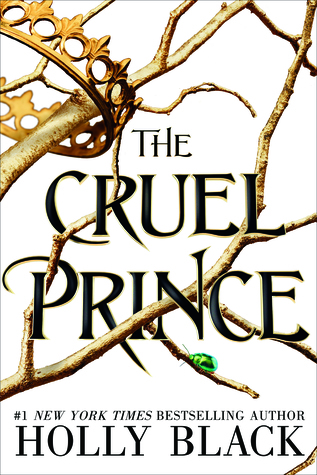 Synopsis

Of course I want to be like them. They're beautiful as blades forged in some divine fire. They will live forever.

And Cardan is even more beautiful than the rest. I hate him more than all the others. I hate him so much that sometimes when I look at him, I can hardly breathe.

Jude was seven years old when her parents were murdered and she and her two sisters were stolen away to live in the treacherous High Court of Faerie. Ten years later, Jude wants nothing more than to belong there, despite her mortality. But many of the fey despise humans. Especially Prince Cardan, the youngest and wickedest son of the High King.

To win a place at the Court, she must defy him–and face the consequences.

In doing so, she becomes embroiled in palace intrigues and deceptions, discovering her own capacity for bloodshed. But as civil war threatens to drown the Courts of Faerie in violence, Jude will need to risk her life in a dangerous alliance to save her sisters, and Faerie itself.
I still haven't finished anything by Holly Black, but she keeps me interested. I am hoping to get to her novels soon and that The Cruel Prince will be the first, because it sounds very promising.
---
Everless by Sara Holland (January 2)
Synopsis

In the kingdom of Sempera, time is currency—extracted from blood, bound to iron, and consumed to add time to one's own lifespan. The rich aristocracy, like the Gerlings, tax the poor to the hilt, extending their own lives by centuries.

No one resents the Gerlings more than Jules Ember. A decade ago, she and her father were servants at Everless, the Gerlings' palatial estate, until a fateful accident forced them to flee in the dead of night. When Jules discovers that her father is dying, she knows that she must return to Everless to earn more time for him before she loses him forever.

But going back to Everless brings more danger—and temptation—than Jules could have ever imagined. Soon she's caught in a tangle of violent secrets and finds her heart torn between two people she thought she'd never see again. Her decisions have the power to change her fate—and the fate of time itself.
Just from reading the synopsis I am loving this story! I don't have to say more I think.
---
Unearthed (Unearthed #1) by Amie Kaufman & Meagan Spooner (January 2)
Synopsis

When Earth intercepts a message from a long-extinct alien race, it seems like the solution the planet has been waiting for. The Undying's advanced technology has the potential to undo environmental damage and turn lives around, and Gaia, their former home planet, is a treasure trove waiting to be uncovered.

For Jules Addison and his fellow scholars, the discovery of an alien culture offers unprecedented opportunity for study… as long as scavengers like Amelia Radcliffe don't loot everything first. Mia and Jules' different reasons for smuggling themselves onto Gaia put them immediately at odds, but after escaping a dangerous confrontation with other scavvers, they form a fragile alliance.

In order to penetrate the Undying temple and reach the tech and information hidden within, the two must decode the ancient race's secrets and survive their traps. But the more they learn about the Undying, the more their presence in the temple seems to be part of a grand design that could spell the end of the human race…
I loved Amie Kaufman in The Illuminae Files and Hunted by Meagan Spooner. I think these two authors can do a lot of magic and I am looking forward to reading this gem.
---
Iron Gold (Red Rising Saga #4) by Pierce Brown (January 16)
Synopsis

They call him father, liberator, warlord, Reaper. But he feels a boy as he falls toward the pale blue planet, his armor red, his army vast, his heart heavy. It is the tenth year of war and the thirty-second of his life.

A decade ago, Darrow was the hero of the revolution he believed would break the chains of the Society. But the Rising has shattered everything: Instead of peace and freedom, it has brought endless war. Now he must risk everything he has fought for on one last desperate mission. Darrow still believes he can save everyone, but can he save himself?

And throughout the worlds, other destinies entwine with Darrow's to change his fate forever: 

A young Red girl flees tragedy in her refugee camp and achieves for herself a new life she could never have imagined.

An ex-soldier broken by grief is forced to steal the most valuable thing in the galaxy—or pay with his life.

And Lysander au Lune, the heir in exile to the sovereign, wanders the stars with his mentor, Cassius, haunted by the loss of the world that Darrow transformed, and dreaming of what will rise from its ashes.
I loved the first three novels in the Red Rising Saga. Iron Gold used to be its own series, but are now squashed together with Red Rising. I don't really care, but it took me by surprises.
---
Truly Devious (Truly Devious #1) by Maureen Johnson (January 16)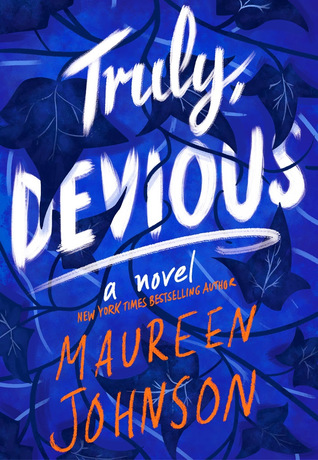 Synopsis

Ellingham Academy is a famous private school in Vermont for the brightest thinkers, inventors, and artists. It was founded by Albert Ellingham, an early twentieth century tycoon, who wanted to make a wonderful place full of riddles, twisting pathways, and gardens. "A place," he said, "where learning is a game."
Shortly after the school opened, his wife and daughter were kidnapped. The only real clue was a mocking riddle listing methods of murder, signed with the frightening pseudonym "Truly, Devious." It became one of the great unsolved crimes of American history.
True-crime aficionado Stevie Bell is set to begin her first year at Ellingham Academy, and she has an ambitious plan: She will solve this cold case. That is, she will solve the case when she gets a grip on her demanding new school life and her housemates: the inventor, the novelist, the actor, the artist, and the jokester. But something strange is happening. Truly Devious makes a surprise return, and death revisits Ellingham Academy. The past has crawled out of its grave. Someone has gotten away with murder.
The thriller Truly Devious sounds very interesting, I have not read anything more than a couple of short stories by Maureen Johnson, I believe. But they were fine.
---
Zenith (The Androma Saga #1) by Sasha Alsberg & Lindsay Cummings (January 16)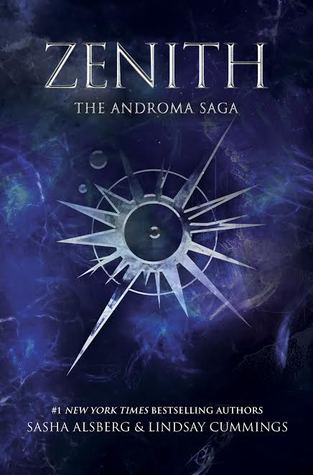 Synopsis

Most know Androma Racella as the Bloody Baroness, a powerful mercenary whose reign of terror stretches across the Mirabel Galaxy. To those aboard her glass starship, Marauder, however, she's just Andi, their friend and fearless leader.

But when a routine mission goes awry, the Marauder's all-girl crew is tested as they find themselves in a treacherous situation and at the mercy of a sadistic bounty hunter from Andi's past.

Meanwhile, across the galaxy, a ruthless ruler waits in the shadows of the planet Xen Ptera, biding her time to exact revenge for the destruction of her people. The pieces of her deadly plan are about to fall into place, unleashing a plot that will tear Mirabel in two.

Andi and her crew embark on a dangerous, soul-testing journey that could restore order to their shipor just as easily start a war that will devour worlds. As the Marauder hurtles toward the unknown, and Mirabel hangs in the balance, the only certainty is that in a galaxy run on lies and illusion, no one can be trusted.
I first found out about Zenith through Sasha's YT channel, but it seemed like it was never going to be released and now it is finally here. I am not sure if I am still really intersted in it, but I will see the result.
---
Reign of the Fallen by Sarah Glenn Marsh (January 23)
Synopsis

Odessa is one of Karthia's master necromancers, catering to the kingdom's ruling Dead. Whenever a noble dies, it's Odessa's job to raise them by retrieving their souls from a dreamy and dangerous shadow world called the Deadlands. But there is a cost to being raised–the Dead must remain shrouded, or risk transforming into zombie-like monsters known as Shades. If even a hint of flesh is exposed, the grotesque transformation will begin.

A dramatic uptick in Shade attacks raises suspicions and fears among Odessa's necromancer community. Soon a crushing loss of one of their own reveals a disturbing conspiracy: someone is intentionally creating Shades by tearing shrouds from the Dead–and training them to attack. Odessa is faced with a terrifying question: What if her necromancer's magic is the weapon that brings Karthia to its knees?
I need to have Reign the Fallen! It sounds super intersting and new.
---
Gone Rogue (Wires & Nerves #2) by Marissa Meyer (January 16)
Synopsis

Iko – an audacious android and best friend to the Lunar Queen Cinder – has been tasked with hunting down Alpha Lysander Steele, the leader of a rogue band of bioengineered wolf-soldiers who threaten to undo the tenuous peace agreement between Earth and Luna. Unless Cinder can reverse the mutations that were forced on them years before, Steele and his soldiers plan to satisfy their monstrous appetites with a massacre of the innocent people of Earth.

And to show he's serious, Steele is taking hostages.

Cinder and Kai, Scarlet and Wolf, Cress and Thorne, and Winter and Jacin all feature in this epic new battle. But it is Iko who must face her deepest fears when she uncovers the truth about her own unusual programming.
I love Marissa's writing. I haven't gotten my hands on Wires and Nerves, but I loved Iko in the books. I don't think I will not like these comics.
---
Reign the Earth (The Elementae #1) by A.C. Gaughen (January 16)
Synopsis

Shalia is a proud daughter of the desert, but after years of devastating war with the adjoining kingdom, her people are desperate for peace. Willing to trade her freedom to ensure the safety of her family, Shalia becomes Queen of the Bonelands.

But she soon learns that her husband, Calix, is motivated only by his desire to exterminate the Elementae—mystical people who can control earth, wind, air, and fire. Even more unsettling are Shalia's feelings for her husband's brother, which unleash a power over the earth she never knew she possessed—a power that could get her killed. As rumors of a rebellion against Calix spread, Shalia must choose between the last chance for peace and her own future as an Elementae.
I found Reign the Earth about half a year ago and have been looking forward to this novel for so long now I need to have this.
---
The Hazel Wood by Melissa Albert (January 30)
Synopsis

Seventeen-year-old Alice and her mother have spent most of Alice's life on the road, always a step ahead of the uncanny bad luck biting at their heels. But when Alice's grandmother, the reclusive author of a cult-classic book of pitch-dark fairy tales, dies alone on her estate, the Hazel Wood, Alice learns how bad her luck can really get: Her mother is stolen away―by a figure who claims to come from the Hinterland, the cruel supernatural world where her grandmother's stories are set. Alice's only lead is the message her mother left behind: "Stay away from the Hazel Wood."

Alice has long steered clear of her grandmother's cultish fans. But now she has no choice but to ally with classmate Ellery Finch, a Hinterland superfan who may have his own reasons for wanting to help her. To retrieve her mother, Alice must venture first to the Hazel Wood, then into the world where her grandmother's tales began―and where she might find out how her own story went so wrong.
I have heard such good things about The Hazel Wood and I want to know what it is about. Also whether all the hype was worth it.
---
Let me know what you thought of these books!
If you have any requests for which book I should talk about next, please let me know in the comments down below.
For now, let books enrich your life!