Book Releases January 2020
Wow, it is already 2020 and this year it will be 5 years since the start of Books in Character. So many highs and lows we have had. This new decade brings a whole bunch more new book releases.
Nameless Queen by Rebecca McLaughlin
Jane Anonymous by Laurie Faria Stolarz
One of Us is Next by Karen M. McManus
The Night Country (The Hazel Wood #2) by Melissa Albert
Highfire by Eoin Colfer
The Conference of the Birds (Miss Peregrin's #5) by Ransom Riggs
Infinity Son (Infinity Cycle #1) by Adam Silvera

Nameless Queen by Rebecca McLaughlin (January 7)
Synopsis

Everyone expected the king's daughter would inherit the throne. No one expected me.

It shouldn't even be possible. I'm Nameless, a class of citizens so disrespected, we don't even get names. Heck, dozens of us have been going missing for months and no one seems to care.

But there's no denying the tattoo emblazoned on my arm. I am queen. In a palace where the corridors are more dangerous the streets, though, how could I possibly rule? And what will become of the Nameless if I don't?
I have high expectations of Nameless Queen by Rebecca McLaughlin, it sounds super interesting and I look forward to reading it.
---
Jane Anonymous by Laurie Faria Stolarz (January 7)
Synopsis

Then, "Jane" was just your typical 17-year-old in a typical New England suburb getting ready to start her senior year. She had a part-time job she enjoyed, an awesome best friend, overbearing but loving parents, and a crush on a boy who was taking her to see her favorite band. She never would've imagined that in her town where nothing ever happens, a series of small coincidences would lead to a devastating turn of events that would forever change her life.

Now, it's been three months since "Jane" escaped captivity and returned home. Three months of being that girl who was kidnapped, the girl who was held by a "monster." Three months of writing down everything she remembered from those seven months locked up in that stark white room. But, what if everything you thought you knew―everything you thought you experienced―turned out to be a lie?
I found Jane Amonymous on EpicReads and like it so much I put it on my own list. Hopefully I can find it and read it soon.
---
One of Us is Next by Karen M. McManus (January 7)
Synopsis

Come on, Bayview, you know you've missed this.

A ton of copycat gossip apps have popped up since Simon died, but in the year since the Bayview four were cleared of his shocking death, no one's been able to fill the gossip void quite like he could. The problem is no one has the facts.

Until now.

This time it's not an app, though—it's a game.

Truth or Dare.

Phoebe's the first target. If you choose not to play, it's a truth. And hers is dark.

Then comes Maeve and she should know better—always choose the dare.

But by the time Knox is about to be tagged, things have gotten dangerous. The dares have become deadly, and if Maeve learned anything from Bronwyn last year, it's that they can't count on the police for help. Or protection.

Simon's gone, but someone's determined to keep his legacy at Bayview High alive. And this time, there's a whole new set of rules.
Up until this point Karen M. McManus hasn't disappointed me, so I really want to read more.
---
The Night Country (The Hazel Wood #2) by Melissa Albert (January 7)
Synopsis

In The Night Country, Alice Proserpine dives back into a menacing, mesmerizing world of dark fairy tales and hidden doors. Follow her and Ellery Finch as they learn The Hazel Wood was just the beginning, and that worlds die not with a whimper, but a bang.

With Finch's help, Alice escaped the Hinterland and her reclusive grandmother's dark legacy. Now she and the rest of the dregs of the fairy tale world have washed up in New York City, where Alice is trying to make a new, unmagical life. But something is stalking the Hinterland's survivors―and she suspects their deaths may have a darker purpose. Meanwhile, in the winking out world of the Hinterland, Finch seeks his own adventure, and―if he can find it―a way back home…
Finally the second book in The Hazel Wood series. I need this in my life.
---
The Conference of the Birds (Miss Peregrin's #5) by Ransom Riggs (January 14)
Synopsis

"Do you trust me?"

An instant bestseller, A Map of Days launched readers into the previously unexplored world of American peculiars, one bursting with new questions, new allies, and new adversaries.

Now, with enemies behind him and the unknown ahead, Jacob Portman's story continues as he takes a brave leap forward
I am still not sure if I want to keep reading the Miss Peregrin books, but I will put this fifth one on my list one more time.
---
Infinity Son (Infinity Cycle #1) by Adam Silvera (January 14)
Synopsis

Growing up in New York, brothers Emil and Brighton always idolized the Spell Walkers—a vigilante group sworn to rid the world of specters. While the Spell Walkers and other celestials are born with powers, specters take them, violently stealing the essence of endangered magical creatures.

Brighton wishes he had a power so he could join the fray. Emil just wants the fighting to stop. The cycle of violence has taken a toll, making it harder for anyone with a power to live peacefully and openly. In this climate of fear, a gang of specters has been growing bolder by the day.

Then, in a brawl after a protest, Emil manifests a power of his own—one that puts him right at the heart of the conflict and sets him up to be the heroic Spell Walker Brighton always wanted to be.

Brotherhood, love, and loyalty will be put to the test, and no one will escape the fight unscathed.
I enjoy Adam Silvera's contemporary reads, but I am worried about Inifinity Son. But still I will give him this chance.
---
The Hand on the Wall (Truly Devious #3) by Maureen Johnson (January 21)
Synopsis

Ellingham Academy must be cursed. Three people are now dead. One, a victim of either a prank gone wrong or a murder. Another, dead by misadventure. And now, an accident in Burlington has claimed another life. All three in the wrong place at the wrong time. All at the exact moment of Stevie's greatest triumph . . .

She knows who Truly Devious is. She's solved it. The greatest case of the century.

At least, she thinks she has. With this latest tragedy, it's hard to concentrate on the past. Not only has someone died in town, but David disappeared of his own free will and is up to something. Stevie is sure that somehow—somehow—all these things connect. The three deaths in the present. The deaths in the past. The missing Alice Ellingham and the missing David Eastman. Somewhere in this place of riddles and puzzles there must be answers.

Then another accident occurs as a massive storm heads toward Vermont. This is too much for the parents and administrators. Ellingham Academy is evacuated. Obviously, it's time for Stevie to do something stupid. It's time to stay on the mountain and face the storm—and a murderer.
Finally the third book in the Truly Devious series and hopefully the last. I am super curious who is behind Truly Devious.
---
Highfire by Eoin Colfer (January 28)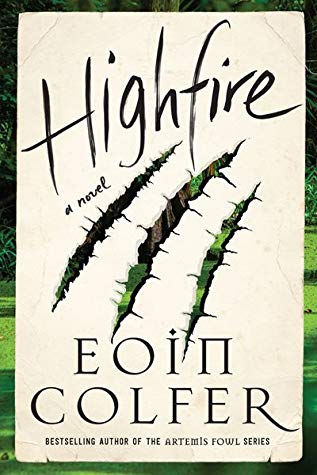 Synopsis

In the days of yore, he flew the skies and scorched angry mobs—now he hides from swamp tour boats and rises only with the greatest reluctance from his Laz-Z-Boy recliner. Laying low in the bayou, this once-magnificent fire breather has been reduced to lighting Marlboros with nose sparks, swilling Absolut in a Flashdance T-shirt, and binging Netflix in a fishing shack. For centuries, he struck fear in hearts far and wide as Wyvern, Lord Highfire of the Highfire Eyrie—now he goes by Vern. However…he has survived, unlike the rest. He is the last of his kind, the last dragon. Still, no amount of vodka can drown the loneliness in his molten core. Vern's glory days are long gone. Or are they?

A canny Cajun swamp rat, young Everett "Squib" Moreau does what he can to survive, trying not to break the heart of his saintly single mother. He's finally decided to work for a shady smuggler—but on his first night, he witnesses his boss murdered by a crooked constable.

Regence Hooke is not just a dirty cop, he's a despicable human being—who happens to want Squib's momma in the worst way. When Hooke goes after his hidden witness with a grenade launcher, Squib finds himself airlifted from certain death by…a dragon?

The swamp can make strange bedfellows, and rather than be fried alive so the dragon can keep his secret, Squib strikes a deal with the scaly apex predator. He can act as his go-between (aka familiar)—fetch his vodka, keep him company, etc.—in exchange for protection from Hooke. Soon the three of them are careening headlong toward a combustible confrontation. There's about to be a fiery reckoning, in which either dragons finally go extinct—or Vern's glory days are back.
Something new by Eoin Colfer just new that his first Artemis Fowl novel is being released as a film. I am curious for both and can not wait to watch/read them.
---
Let me know what you thought of these books!
If you have any requests for which book I should talk about next, please let me know in the comments down below.
For now, let books enrich your life!