Book Releases October 2019
It has been awhile since I actually wrote a book releases post with time to spear, I know I haven't been very good at keeping up with everything I started. I am sorry. But a new month gives me the chance to start off on the right foot again, so here goes.
October is a month will a couple of highly anticipated books for me, mostly because I have been waiting for most of these for forever. Finally the forth Illustrated Harry Potter is coming out and also Leigh Bardugo, Marie Lu and Renee Ahdieh are coming out with new books. It is going to be a great month.
Rebel (Legend #4) by Marie Lu
Ninth House (Alex Stern #1) by Leigh Bardugo
The Beautiful (The Beautiful #1) by Renee Ahdieh
Into the Crooked Place (Into the Crooked Place #1) by Alexandra Christo
Harry Potter and the Goblet of Fire Illustrated Edition (Harry Potter #4) by J.K. Rowling
War Girls (War Girls #1) by Tochi Onyebuchi

Rebel (Legend #4) by Marie Lu (October 1)
Synopsis

Respect the Legend. Idolize the Prodigy. Celebrate the Champion. But never underestimate the Rebel.

Eden Wing has been living in his brother's shadow for years. Even though he's a top student at his academy in Ross City, Antarctica, and a brilliant inventor, most people know him only as Daniel Wing's little brother.

A decade ago, Daniel was known as Day, the boy from the streets who led a revolution that saved the Republic of America. But Day is no longer the same young man who was once a national hero. These days he'd rather hide out from the world and leave his past behind. All that matters to him now is keeping Eden safe―even if that also means giving up June, the great love of Daniel's life.

As the two brothers struggle to accept who they've each become since their time in the Republic, a new danger creeps into the distance that's grown between them. Eden soon finds himself drawn so far into Ross City's dark side, even his legendary brother can't save him. At least not on his own . . .
I know I didn't like the ending of the original Legend trilogy and I hate it when people pick up one of their completed series again, but I am willing to give Marie Lu a chance to see where she is going to take the series in Rebel, but I am not hopeful.
---
Ninth House (Alex Stern #1) by Leigh Bardugo (October 8)
Synopsis

Galaxy "Alex" Stern is the most unlikely member of Yale's freshman class. Raised in the Los Angeles hinterlands by a hippie mom, Alex dropped out of school early and into a world of shady drug dealer boyfriends, dead-end jobs, and much, much worse. By age twenty, in fact, she is the sole survivor of a horrific, unsolved multiple homicide. Some might say she's thrown her life away. But at her hospital bed, Alex is offered a second chance: to attend one of the world's most elite universities on a full ride. What's the catch, and why her?

Still searching for answers to this herself, Alex arrives in New Haven tasked by her mysterious benefactors with monitoring the activities of Yale's secret societies. These eight windowless "tombs" are well-known to be haunts of the future rich and powerful, from high-ranking politicos to Wall Street and Hollywood's biggest players. But their occult activities are revealed to be more sinister and more extraordinary than any paranoid imagination might conceive.
A NEW book by Leigh Bardugo and a completely new series by her non the less! I have to read this for myself to see whether she has been able to put the attention to detail from her original two series in this one too. I can't judge King of Scars yet since I have not gotten to that yet.
---
The Beautiful (The Beautiful #1) by Renee Ahdieh (October 8)
Synopsis

In 1872, New Orleans is a city ruled by the dead. But to seventeen-year-old Celine Rousseau, New Orleans provides her a refuge after she's forced to flee her life as a dressmaker in Paris. Taken in by the sisters of the Ursuline convent along with six other girls, Celine quickly becomes enamored with the vibrant city from the music to the food to the soirées and—especially—to the danger. She soon becomes embroiled in the city's glitzy underworld, known as La Cour des Lions, after catching the eye of the group's leader, the enigmatic Sébastien Saint Germain. When the body of one of the girls from the convent is found in the lair of La Cour des Lions, Celine battles her attraction to him and suspicions about Sébastien's guilt along with the shame of her own horrible secret.

When more bodies are discovered, each crime more gruesome than the last, Celine and New Orleans become gripped by the terror of a serial killer on the loose—one Celine is sure has set her in his sights . . . and who may even be the young man who has stolen her heart. As the murders continue to go unsolved, Celine takes matters into her own hands and soon uncovers something even more shocking: an age-old feud from the darkest creatures of the underworld reveals a truth about Celine she always suspected simmered just beneath the surface.
I have heard a lot of things about The Beautiful by Renee Ahdieh and her other books are laying her on my tbr as we speak, I just don't seem to get to them. I hope this brings back some nostagia for things like Twilight and other vampire YA again. I am curious.
---
Into the Crooked Place (Into the Crooked Place #1) by Alexandra Christo (October 8)
Synopsis

The streets of Creije are for the deadly and the dreamers, and four crooks in particular know just how much magic they need up their sleeve to survive.

Tavia, a busker ready to pack up her dark-magic wares and turn her back on Creije for good. She'll do anything to put her crimes behind her.

Wesley, the closest thing Creije has to a gangster. After growing up on streets hungry enough to swallow the weak whole, he won't stop until he has brought the entire realm to kneel before him.

Karam, a warrior who spends her days watching over the city's worst criminals and her nights in the fighting rings, making a deadly name for herself.

And Saxony, a resistance fighter hiding from the very people who destroyed her family, and willing to do whatever it takes to get her revenge.

Everything in their lives is going to plan, until Tavia makes a crucial mistake: she delivers a vial of dark magic—a weapon she didn't know she had—to someone she cares about, sparking the greatest conflict in decades. Now these four magical outsiders must come together to save their home and the world, before it's too late. But with enemies at all sides, they can trust nobody. Least of all each other.
I am curious what Alexandra Christo has come up with this time. I enjoyed To Kill a Kingdom and I hope Into the Crooked Place is just as vibrant and interesting as the previous book was.
---
Harry Potter and the Goblet of Fire Illustrated Edition (Harry Potter #4) by J.K. Rowling (October 8)
Synopsis

Harry Potter is midway through his training as a wizard and his coming of age. Harry wants to get away from the pernicious Dursleys and go to the International Quidditch Cup. He wants to find out about the mysterious event that's supposed to take place at Hogwarts this year, an event involving two other rival schools of magic, and a competition that hasn't happened for a hundred years. He wants to be a normal, fourteen-year-old wizard. But unfortunately for Harry Potter, he's not normal – even by wizarding standards. And in his case, different can be deadly.
Even though I have the entire Harry Potter franchise in hardcover on my shelves, I need to have the Illustrated Editions too, end of story!
---
War Girls (War Girls #1) by Tochi Onyebuchi (October 15)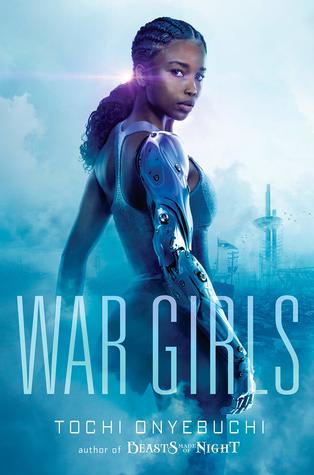 Synopsis

Two sisters are torn apart by war and must fight their way back to each other in a futuristic, Black Panther–inspired Nigeria.

The year is 2172. Climate change and nuclear disasters have rendered much of earth unlivable. Only the lucky ones have escaped to space colonies in the sky.

In a war-torn Nigeria, battles are fought using flying, deadly mechs and soldiers are outfitted with bionic limbs and artificial organs meant to protect them from the harsh, radiation-heavy climate. Across the nation, as the years-long civil war wages on, survival becomes the only way of life.

Two sisters, Onyii and Ify, dream of more. Their lives have been marked by violence and political unrest. Still, they dream of peace, of hope, of a future together.

And they're willing to fight an entire war to get there.
War Girls is the only book this month I have not read anything of previously, but it still sounds great. A little bit like the dystopia of the olden days. Haha, hear me saying the olden days. LOL.
---
Let me know what you thought of these books!
If you have any requests for which book I should talk about next, please let me know in the comments down below.
For now, let books enrich your life!