Book Releases September 2018
We are nearly at the last quarter of 2018 and there are so many books going to be released over the next four months, so I have tried to make a selection of the ones I am most looking forward to.
Two Dark Reigns (Three Dark Crowns #3) by Kendare Blake
Impostors by Scott Westerfeld
Haven, Monstress Vol. 3 by Marjorie M. Lui
Rule (Rule #1) by Ellen Goodlett
Analee, In Real Life by Janelle Milanes
Wildcard (Warcross #2) by Marie Lu
500 Words or Less by Juleah del Rosario
An Absolutely Remarkable Thing by Hank Green
The Dark Descent of Elizabeth Frankenstein by Kiersten White
Vengeful (The Villains #2) by V.E. Schwab

Two Dark Reigns (Three Dark Crowns #3) by Kendare Blake (September 4)
Synopsis

Katharine sits on the throne, Mirabella and Arsinoe are in hiding, and an unexpected renegade is about to wage a war of her own. The crown has been won, but these queens are far from done.
I finally read Three Dark Crowns and even though there are many things wrong with it, it did make me curious where the series was going so I need Two Dark Reigns in my life!
---
Impostors by Scott Westerfeld (September 11)
Synopsis

Frey and Rafi are inseparable . . . but very few people have ever seen them together. This is because Frey is Rafi's double, raised in the shadow's of their rich father's fortress. While Rafi has been taught to charm, Frey has been taught to kill. Frey only exists to protect her sister. There is no other part of her life. Frey has never been out in the world on her own – until her father sends her in Rafi's place to act as collateral for a dangerous deal. Everyone thinks she's her sister – but Col, the son of a rival leader, is starting to get close enough to tell the difference. As the stakes grow higher and higher, Frey must decide whether she can trust him – or anyone in her life.
Another book in the Uglies series, the first in a series of four. I am curious if Scott can pick up the more interesting parts of the first three Uglies series and nothing of Extras in there, because that one sucked. My reviews for the series will be up in a couple of days.
---
Haven, Monstress Vol. 3 by Marjorie M. Lui (September 11)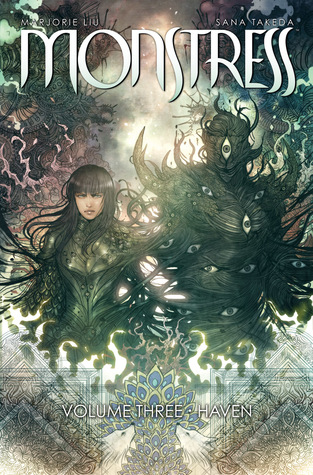 Synopsis

Maika has spent most of her life learning how to fight, but how will she fare when the only way to save her life…is to make friends?

Collects issues 13-18 of the Hugo Award and British Fantasy Award series.
I love Monstress, it is well written and drawn and keeps me on the edge of my seat to keep reading.
---
Rule (Rule #1) by Ellen Goodlett (September 11)
Synopsis

Three girls with three deadly secrets. Only one can wear the crown.

The king is dying, his heir has just been murdered, and rebellion brews in the east. But the kingdom of Kolonya and the outer Reaches has one last option before it descends into leaderless chaos.

Or rather, three unexpected options.

Zofi has spent her entire life trekking through the outer Reaches with her band of Travelers. She would do anything to protect the band, her family. But no one can ever find out how far she's already gone.

Akeylah was raised in the Eastern Reach, surrounded by whispers of rebellion and abused by her father. Desperate to escape, she makes a decision that threatens the whole kingdom.

Ren grew up in Kolonya, serving as a lady's maid and scheming her way out of the servants' chambers. But one such plot could get her hung for treason if anyone ever discovers what she's done.

When the king summons the girls, they arrive expecting arrest or even execution. Instead they learn the truth: they are his illegitimate daughters, and one must become his new heir. But someone in Kolonya knows their secrets, and that someone will stop at nothing to keep the sisters from their destiny… to rule.

Magic, mystery, and blackmail abound in this sensational and striking fantasy debut.
I have been waiting for Rule for a while now, I hear good things about it but I do worry it's like Everless or Furyborn. I will give it it's own chance, so who knows.
---
Analee, In Real Life by Janelle Milanes (September 18)
Synopsis

Ever since her mom died three years ago, Analee Echevarria has had trouble saying out loud the weird thoughts that sit in her head. With a best friend who hates her and a dad who's marrying a yogi she can't stand, Analee spends most of her time avoiding reality and role-playing as Kiri, the night elf hunter at the center of her favorite online game.

Through Kiri, Analee is able to express everything real-life Analee cannot: her bravery, her strength, her inner warrior. The one thing both Kiri and Analee can't do, though, is work up the nerve to confess her romantic feelings for Kiri's partner-in-crime, Xolkar—aka a teen boy named Harris whom Analee has never actually met in person.

So when high school heartthrob Seb Matias asks Analee to pose as his girlfriend in an attempt to make his ex jealous, Analee agrees. Sure, Seb seems kind of obnoxious, but Analee could use some practice connecting with people in real life. In fact, it'd maybe even help her with Harris.

But the more Seb tries to coax Analee out of her comfort zone, the more she starts to wonder if her anxious, invisible self is even ready for the real world. Can Analee figure it all out without losing herself in the process?
I am curious about Analee, in Real Life. The synopsis pulled me in and I don't even remember how I found it since it's not mentioned a lot on the interent.
---
Wildcard (Warcross #2) by Marie Lu (September 18)
Synopsis

Emika Chen barely made it out of the Warcross Championships alive. Now that she knows the truth behind Hideo's new NeuroLink algorithm, she can no longer trust the one person she's always looked up to, who she once thought was on her side.

Determined to put a stop to Hideo's grim plans, Emika and the Phoenix Riders band together, only to find a new threat lurking on the neon-lit streets of Tokyo. Someone's put a bounty on Emika's head, and her sole chance for survival lies with Zero and the Blackcoats, his ruthless crew. But Emika soon learns that Zero isn't all that he seems–and his protection comes at a price.

Caught in a web of betrayal, with the future of free will at risk, just how far will Emika go to take down the man she loves?
I haven't gotten to reading Warcross yet, but I really want to read it and also the second part Wildcard.
---
500 Words or Less by Juleah del Rosario (September 25)
Synopsis

Nic Chen refuses to spend her senior year branded as the girl who cheated on her charismatic and lovable boyfriend. To redefine her reputation among her Ivy League–obsessed classmates, Nic begins writing their college admissions essays.

But the more essays Nic writes for other people, the less sure she becomes of herself, the kind of person she is, and whether her moral compass even points north anymore.
I saw 500 Words or Less by Juleah del Rosario on twitter and got me interested. It sounds interesting and I am curious if it is actually as great as I think it is.
---
An Absolutely Remarkable Thing by Hank Green (September 25)
Synopsis

The Carls just appeared. Coming home from work at three a.m., twenty-three-year-old April May stumbles across a giant sculpture. Delighted by its appearance and craftsmanship–like a ten-foot-tall Transformer wearing a suit of samurai armor–April and her friend Andy make a video with it, which Andy uploads to YouTube. The next day April wakes up to a viral video and a new life. News quickly spreads that there are Carls in dozens of cities around the world–everywhere from Beijing to Buenos Aires–and April, as their first documentarian, finds herself at the center of an intense international media spotlight. 

Now April has to deal with the pressure on her relationships, her identity, and her safety that this new position brings, all while being on the front lines of the quest to find out not just what the Carls are, but what they want from us.
Okay I love the Green brothers. Just not always John Green's writing. But I do want to know how Hank writes and the book looks absolutely stunning.
---
The Dark Descent of Elizabeth Frankenstein by Kiersten White (September 25)
Synopsis

Elizabeth Lavenza hasn't had a proper meal in weeks. Her thin arms are covered with bruises from her "caregiver," and she is on the verge of being thrown into the streets . . . until she is brought to the home of Victor Frankenstein, an unsmiling, solitary boy who has everything–except a friend.

Victor is her escape from misery. Elizabeth does everything she can to make herself indispensable–and it works. She is taken in by the Frankenstein family and rewarded with a warm bed, delicious food, and dresses of the finest silk. Soon she and Victor are inseparable.

But her new life comes at a price. As the years pass, Elizabeth's survival depends on managing Victor's dangerous temper and entertaining his every whim, no matter how depraved. Behind her blue eyes and sweet smile lies the calculating heart of a girl determined to stay alive no matter the cost . . . as the world she knows is consumed by darkness.
The Conqueror's Saga was great by Kiersten White and I am very curious about this new book by her. And the story behind the cover is also really cool.
---
Vengeful (The Villains #2) by V.E. Schwab (September 25)
Synopsis

The sequel to VICIOUS, V.E. Schwab's first adult novel.

Sydney once had Serena—beloved sister, betrayed enemy, powerful ally. But now she is alone, except for her thrice-dead dog, Dol, and then there's Victor, who thinks Sydney doesn't know about his most recent act of vengeance.

Victor himself is under the radar these days—being buried and re-animated can strike concern even if one has superhuman powers. But despite his own worries, his anger remains. And Eli Ever still has yet to pay for the evil he has done.
I loved Vicious! I need Vengeful in my life and have been waiting for it for so long. I think Victoria Schwab is a great author her stories just don't always come out right. But with Vicious it came out really well.
---
Let me know what you thought of these books!
If you have any requests for which book I should talk about next, please let me know in the comments down below.
For now, let books enrich your life!