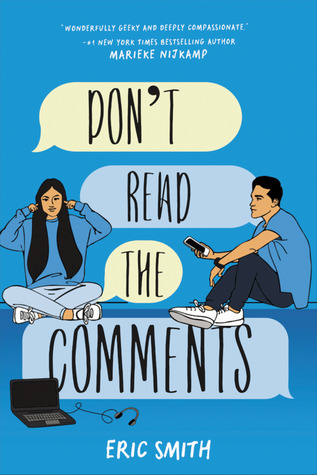 Don't Read the Comments
I thought the synopsis of Don't Read the Comments sounded really great when I saw it on Twitter. And it is a great as I thought it would be.
Book Review: Don't Read the Comments by Eric Smith
Rating: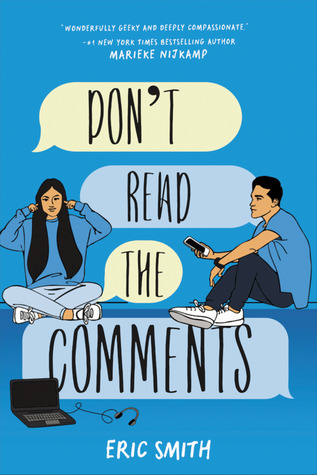 Title & Author: Don't Read the Comments by Eric Smith
Genre: Contemporary, Romance
Release date: January 28 2020
Series: Standalone
Publisher: Inkyard Press

Synopsis

Divya Sharma is a queen. Or she is when she's playing Reclaim the Sun, the year's hottest online game. Divya—better known as popular streaming gamer D1V—regularly leads her #AngstArmada on quests through the game's vast and gorgeous virtual universe. But for Divya, this is more than just a game. Out in the real world, she's trading her rising-star status for sponsorships to help her struggling single mom pay the rent.

Gaming is basically Aaron Jericho's entire life. Much to his mother's frustration, Aaron has zero interest in becoming a doctor like her, and spends his free time writing games for a local developer. At least he can escape into Reclaim the Sun—and with a trillion worlds to explore, disappearing should be easy. But to his surprise, he somehow ends up on the same remote planet as celebrity gamer D1V.

At home, Divya and Aaron grapple with their problems alone, but in the game, they have each other to face infinite new worlds…and the growing legion of trolls populating them. Soon the virtual harassment seeps into reality when a group called the Vox Populi begin launching real-world doxxing campaigns, threatening Aaron's dreams and Divya's actual life. The online trolls think they can drive her out of the game, but everything and everyone Divya cares about is on the line…

And she isn't going down without a fight.
I give Don't Read the Comments by Eric Smith five out of five hearts because I loved it. This is one contemporary romance I loved because the romance was slow burn and there was lots of humor.
Divya is a fun girl, caring for her mother and helping out wherever she can. She is one softy, but has a fierce edge to her. She really carried this story and Eric Smith really knows how to tap into his female side to make her sound realistic.
Aaron was an interesting character to me because he wants to become a writer for video games. Which is something I have looked into to do myself. He seems to be a bit of a boy boy, but he is actually very soft.
Eric knows how to write multiple pov with distinct voices and a lot of humor. His descriptions are clear and I could almost see the world of Reclaim the Sun. I enjoyed his writing and will definitely see if I can find more of his books.
Let me know what you thought of this book!
If you have any requests for which book I should talk about next, please let me know in the comments down below.
For now, let books enrich your life!