Book Releases February 2020
2020 is well underway and I am so surprised about it. I am stupid for still being surprised? But another month means more book releases, so here are the ones I am looking forward to reading.
Ember Queen (Ash Princess #3) by Laura Sebastian
Heartstopper Volume 3 by Alice Oseman
Honor Lost (The Honors #3) by Ann Aguirre & Rachel Caine
Heart of Flames (Crown of Feathers #2) by Nicki Pau Preto
The Life Below (The Final Six #2) by Alexandra Monir
Of Curses and Kisses (St. Rosetta's Academy #1) by Sandhya Menon
The Shadows Between Us by Tricia Levenseller

Ember Queen (Ash Princess #3) by Laura Sebastian (Febuary 4)
Synopsis

Princess Theodosia was a prisoner in her own country for a decade. Renamed the Ash Princess, she endured relentless abuse and ridicule from the Kaiser and his court. But though she wore a crown of ashes, there is fire in Theo's blood. As the rightful heir to the Astrean crown, it runs in her veins. And if she learned nothing else from her mother, she learned that a Queen never cowers.

Now free, with a misfit army of rebels to back her, Theo must liberate her enslaved people and face a terrifying new enemy: the new Kaiserin. Imbued with a magic no one understands, the Kaiserin is determined to burn down anyone and everything in her way.

The Kaiserin's strange power is growing stronger, and with Prinz Søren as her hostage, there is more at stake than ever. Theo must learn to embrace her own power if she has any hope of standing against the girl she once called her heart's sister.
I know I still haven't read Ash Princess, but I will soon. And so I have already got my pre-order in. Oops.
---
Heartstopper Volume 3 by Alice Oseman (Febuary 6)
Synopsis

In this volume we'll see the Heartstopper gang go on a school trip to Paris! Not only are Nick and Charlie navigating a new city, but also telling more people about their relationship AND learning more about the challenges each other are facing in private…

Meanwhile Tao and Elle will face their feelings for each other, Tara and Darcy share more about their relationship origin story, and the teachers supervising the trip seem… rather close…?
I loved Heartstopper and will read Volume 3 as soon as I see it in stores when I go out next week.
---
Honor Lost (The Honors #3) by Ann Aguirre & Rachel Caine (Febuary 11)
Synopsis

Space renegade Zara Cole may have finally met her match. Lifekiller—a creature that can devour entire planets—is spreading terror throughout the universe, and it seems nothing can stand in the monstrous godking's way.

Reeling from a series of battles, Zara and her wounded band of allies are going to need a strategy before they face Lifekiller again. Zara's street smarts may not be enough when their enemy could be anywhere, destroying civilizations and picking his teeth with the bones.

And just when it feels like she's reached a special place in her bond with Bea and Nadim, an ex from Earth with an ax to grind comes after her with nefarious intentions. With human enemies, alien creatures, and mechanical stalkers on her tail, it's down to the wire for Zara to save the galaxy—and the people she calls home—before the godking consumes them all.
I loved Honor Among Thieves and still haven't read Honor Bound, but the release of Honor Lost gives me a good reason to reread the first book and the second book finally. Yay!
---
Heart of Flames (Crown of Feathers #2) by Nicki Pau Preto (Febuary 11)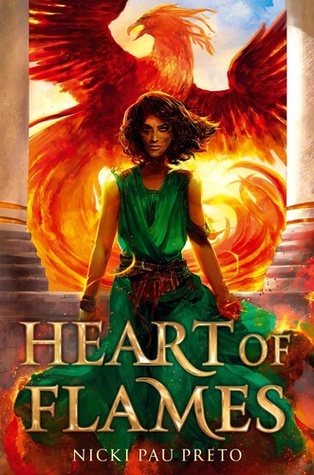 Synopsis

You are a daughter of queens.

The world is balanced on the edge of a knife, and war is almost certain between the empire and the Phoenix Riders.

Like Nefyra before you, your life will be a trial by fire.

Veronyka finally got her wish to join the Riders, but while she's supposed to be in training, all she really wants to do is fly out to defend the villages of Pyra from the advancing empire. Tristan has been promoted to Master Rider, but he has very different ideas about the best way to protect their people than his father, the commander. Sev has been sent to spy on the empire, but maintaining his cover may force him to fight on the wrong side of the war. And Veronyka's sister, Val, is determined to regain the empire she lost—even if it means inciting the war herself.

Such is your inheritance. A name. A legacy. An empire in ruin.

As tensions reach a boiling point, the characters all find themselves drawn together into a fight that will shape the course of the empire—and determine the future of the Phoenix Riders. Each must decide how far they're willing to go—and what they're willing to lose in the process.

I pray you are able to pass through the flames.
It's finally here! Heart of Flames has been in the back of my mind ever since I finished Crown of Feathers. So much hype because I would really love to read it.
---
The Life Below (The Final Six #2) by Alexandra Monir (Febuary 18)
Synopsis

As Naomi lifts off into space and away from a rapidly deteriorating Earth, she watches the world fade away, and along with it Leo, a Final Six contestant she grew close to during training. Leaving Earth behind is hard, but what's ahead, on Europa, could be worse. The International Space Training Camp continues to hide the truth about what happened to the last group of astronauts who attempted a similar colonization but failed mysteriously. With one shot—at this mission and to Europa—Naomi is determined to find out if there is alien life on Europa before she and her crew get there.

Leo, back on Earth, has been working with renegade scientist Dr. Greta Wagner, who promises to fly him to space where he can essentially latch on to Naomi's ship. And if Wagner's hypothesis is right, it isn't a possibility of coming in contact with extraterrestrial life on Europa—it's a definite. With Naomi unaware of what awaits, it's up to Leo to find and warn her and the others.

With all the pieces of their journey finally clicking into place, everything else starts to fall apart. A storm threatens to interfere with Leo's takeoff, a deadly entity makes itself known to the Final Six, and the questions the ISTC has been avoiding about the previous failed mission get answered in the worst way possible. If the dream was to establish a habitable domain on Europa… the Final Six are about to enter a nightmare.
I thought The Final Six was a standalone, but a second book after it is fine with me.
---
Of Curses and Kisses (St. Rosetta's Academy #1) by Sandhya Menon (Febuary 18)
Synopsis

Will the princess save the beast?

For Princess Jaya Rao, nothing is more important than family. When the loathsome Emerson clan steps up their centuries-old feud to target Jaya's little sister, nothing will keep Jaya from exacting her revenge. Then Jaya finds out she'll be attending the same elite boarding school as Grey Emerson, and it feels like the opportunity of a lifetime. She knows what she must do: Make Grey fall in love with her and break his heart. But much to Jaya's annoyance, Grey's brooding demeanor and lupine blue eyes have drawn her in. There's simply no way she and her sworn enemy could find their fairy-tale ending…right?

His Lordship Grey Emerson is a misanthrope. Thanks to an ancient curse by a Rao matriarch, Grey knows he's doomed once he turns eighteen. Sequestered away in the mountains at St. Rosetta's International Academy, he's lived an isolated existence—until Jaya Rao bursts into his life, but he can't shake the feeling that she's hiding something. Something that might just have to do with the rose-shaped ruby pendant around her neck…

As the stars conspire to keep them apart, Jaya and Grey grapple with questions of love, loyalty, and whether it's possible to write your own happy ending.
I found Of Curses and Kisses on Goodreads because I thought the title was cute and the synopsis actually sounds good too.
---
The Shadows Between Us by Tricia Levenseller (Febuary 25)
Synopsis

Alessandra is tired of being overlooked, but she has a plan to gain power:

1) Woo the Shadow King.
2) Marry him.
3) Kill him and take his kingdom for herself.

No one knows the extent of the freshly crowned Shadow King's power. Some say he can command the shadows that swirl around him to do his bidding. Others say they speak to him, whispering the thoughts of his enemies. Regardless, Alessandra knows what she deserves, and she's going to do everything within her power to get it.

But Alessandra's not the only one trying to kill the king. As attempts on his life are made, she finds herself trying to keep him alive long enough for him to make her his queen—all while struggling not to lose her heart. After all, who better for a Shadow King than a cunning, villainous queen?
Oh my god, The Shadows Between Us sounds so good! I saw the trailer and just knew I would be interested in this novel. So I really need this.
---
Let me know what you thought of these books!
If you have any requests for which book I should talk about next, please let me know in the comments down below.
For now, let books enrich your life!