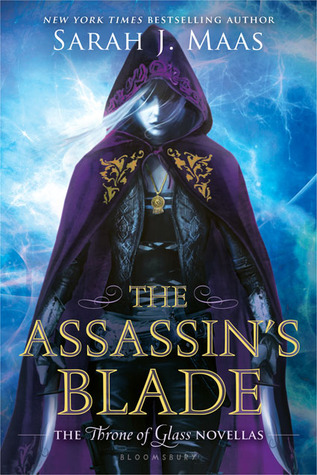 She was fire, she was darkness, she was dust and blood and shadow
This week I am going to review all five of the Throne of Glass novellas by Sarah J. Maas. I loved the novels, but did not like the novellas all that much, even though they gave a lot of background information about Celaena.
Book Review: The Assassin's Blade by Sarah J. Maas
Rating: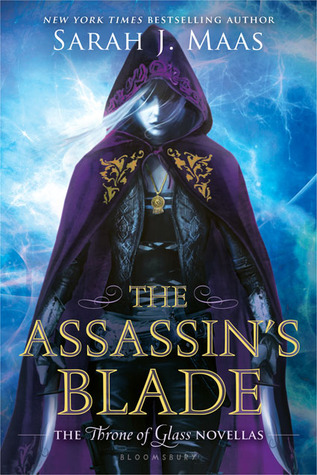 Title & Author: The Assassin's Blade by Sarah J. Maas
Genre: Fantasy, Adventure
Release Date: March 4 2014
Series: Throne of Glass
Publisher: Bloomsbury

Synopsis

Celaena Sardothien is Adarlan's most feared assassin. As part of the Assassin's Guild, her allegiance is to her master, Arobynn Hamel, yet Celaena listens to no one and trusts only her fellow killer-for-hire, Sam. In these action-packed novellas – together in one edition for the first time – Celaena embarks on five daring missions. They take her from remote islands to hostile deserts, where she fights to liberate slaves and seeks to avenge the tyrannous. But she is acting against Arobynn's orders and could suffer an unimaginable punishment for such treachery. Will Celaena ever be truly free? Explore the dark underworld of this kick-ass heroine to find out.
The Assassin and the Pirate Lord
When starting this novella I was very confused as to which of the five it was. It did not seem to relate yet to any of the names and the characters confused me. Especially Celaena's relationship with Ben. Later on I understood more and accepted it, but it did stay with me.
During this novella you get to see Celaena's irritation with Sam, before they get into a relationship. I did feel it was a bit of a cliché, not liking a guy and then ending up with this one. But let it slide.
Celaena is very aggressive towards Sam and even though I knew she would end up with him, wondered how they ever would get on a level of normal contact. By the end of the book they change their bond and they start to treat each other with more respect and in a more normal way and you can actually see something growing there.
The story overall was a bit cliché. Celaena sees unjust happen and takes matters into her own hands and nearly gets killed over it.
During this one you can already see the girl that eventually becomes the King's Champion. A 16 year old sassy girl. The fact that Celaena did not need to grow much to fit into that picture of her 18 year old one was nice.
Sam sounds like a great guy, but he is also great at deceiving people, which I think is not a good quality. He has trained with Celaena ever since they both joined the assassins, but he seems more and more interested in Celaena over the whole story, maybe a bit too oblivious.
The Assassin and the Healer
I liked this story the best out of five. It is written mostly from Irene's POV. She is a very sassy healer on her way to the Collage of Healers on the Southern Continent. Her only problem is…. Money. Not only that but she finds the idea of moving on scary. Which is also the point at which we meet Celaena again and together they help each other grow a little to move on from that place.
I think that is what I like about the story. To me it is a small story on how sometimes you need someone to grow with you.
The Assassin and the Desert
This story almost starts off where the last one left off. Unlike the original novellas, which did not include The Assassin and the Healer.
I enjoyed reading about Celaena's training, but after all the training in Heir of Fire feels a bit too much. It got boring really soon and I felt it did not add much to the story for me.
The Assassin and the Underworld
From the novels and most of the novellas I understand why they are called that way, but for this one I have no idea and it takes the fun out of it for me, the fact that I don't understand it. It makes me sad. This is the darkest of the five.
The Assassin and the Empire
This is the one that interested me most when I started the novellas. But it fell short for me. It describes the things that went on about a year before Throne of Glass and is about Sam's death and Celaena's capture. I just missed a lot of information I was curious about about Endovier. It feels like a missed chance.
Have you read these novellas? Which was your favorite?
Let me know what you thought of this book!
If you have any requests for which book I should talk about next, please let me know in the comments down below.
For now, let books enrich your life!