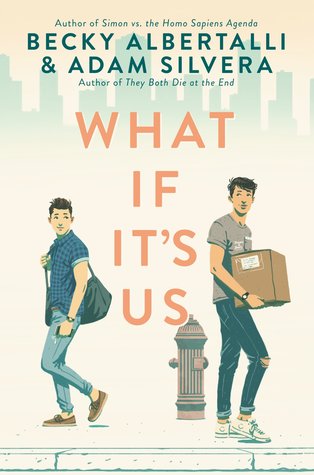 I don't know if we're in a love story or a story about love
Even though I enjoyed reading What If It's Us? I can't give it only three hearts for various reasons. It's a great read, but completely not my kind of read.
Book Review: What If It's Us? by Becky Albertalli & Adam Silvera
Rating: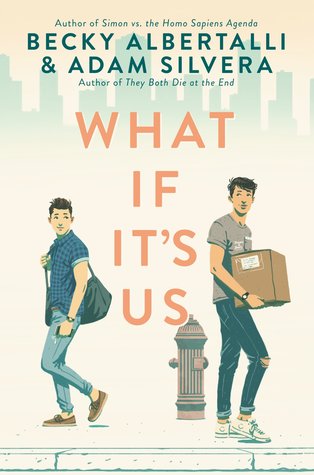 Title & Author: What If It's Us? by Becky Albertalli & Adam Silvera
Genre: Contemporary, Romance
Release date: October 9 2018
Series: Standalone
Publisher: HarperCollins

Synopsis

Arthur is only in New York for the summer, but if Broadway has taught him anything, it's that the universe can deliver a showstopping romance when you least expect it.

Ben thinks the universe needs to mind its business. If the universe had his back, he wouldn't be on his way to the post office carrying a box of his ex-boyfriend's things.

But when Arthur and Ben meet-cute at the post office, what exactly does the universe have in store for them?

Maybe nothing. After all, they get separated.

Maybe everything. After all, they get reunited.

But what if they can't quite nail a first date . . . or a second first date . . . or a third?

What if Arthur tries too hard to make it work . . . and Ben doesn't try hard enough?

What if life really isn't like a Broadway play?

But what if it is?
I give What If It's Us? by Becky Albertalli and Adam Silvera three out of five hearts because it was completely not a read for me and it left me with a lot of mixed feelings.
I think Adam Silvera's and Becky Albertalli's writing mix very well, but the fun I saw in Adam's They Both Die in the End was nowhere to find and I am not the biggest fan of Becky's work either. I missed the humor a lot. The characters were both pretty different from each other but in ways also very similar. Which was odd since Arthur is written by Becky and Ben's done by Adam. This is where some of my conflicted feelings come from.
Another thing I didn't like was that it really was about the romance and those two boys fell way too hard for each other from moment one. I have been in a sort of similar situation and when I went for it, it also ended well. But I didn't this hard. It's impossible. That they try and find each other is possible, I mean I did it too. But Arthur feels so desperate to find Ben that it becomes weird and unconvincing.
The good thing about this novel was the well-written friendships in it. Ben's best friend seems great and they care for each other visibly. The same goes for Arthur's work friends. It is good to see that at least that what both authors still do very well.
Overall I think that if the story had been written differently it would be better, but I wouldn't read it again because it is just not my read. I was willing to give it a chance because of Adam and Becky's writing, but I had a hard time pushing through.
Let me know what you thought of this book!
If you have any requests for which book I should talk about next, please let me know in the comments down below.
For now, let books enrich your life!