Book Releases July 2018
The first half of the year is behind us. As a test I am going to post a review every day, just for now. Maybe only for the month July, maybe only for the summer. We will have to see. I have read a lot of books during the last 6 months and it seems too crazy to think that if the second half of the year goes the same way, I will have around 300 books read by the end. Of which actually many more new releases than I would have thought ever imaginable.
Here are the books that I am most looking for coming to the stores in July 2018.
Beast by Lisa Jensen
Bright We Burn by Kiersten White
Fawkes by Nadine Brandes
Notes from My Capticity by Kathy Parks
Spinning Silver by Naomi Novik
Contagion by Erin Bowman
Heart of Thorns by Bree Barton
Sea Witch by Sarah Henning
Grace and Fury by Tracy Banghart
The Cheerleaders by Kara Thomas

Beast: A Tale of Love and Revenge by Lisa Jensen (July 10)
Synopsis

They say Château Beaumont is cursed. But servant-girl Lucie can't believe such foolishness about handsome Jean-Loup Christian Henri LeNoir, Chevalier de Beaumont, master of the estate. But when the chevalier's cruelty is revealed, Lucie vows to see him suffer. A wisewoman grants her wish, with a spell that transforms Jean-Loup into monstrous-looking Beast, reflecting the monster he is inside. But Beast is nothing like the chevalier. Jean-Loup would never patiently tend his roses; Jean-Loup would never attempt poetry; Jean-Loup would never express remorse for the wrong done to Lucie. Gradually, Lucie realizes that Beast is an entirely different creature from the handsome chevalier, with a heart more human than Jean-Loup's ever was. Lucie dares to hope that noble Beast has permanently replaced the cruel Jean-Loup — until an innocent beauty arrives at Beast's château with the power to break the spell.
I have been really liking histrical kinda books these days. This sounds like a Beauty and the Beast retelling and I really like it. I am curious if my suspicion is right and I will wait until the 10th has come.
---
Bright We Burn (The Conqueror's Saga #3) by Kiersten White (July 10)
Synopsis

Haunted by the sacrifices he made in Constantinople, Radu is called back to the new capital. Mehmed is building an empire, becoming the sultan his people need. But Mehmed has a secret: as emperor, he is more powerful than ever . . . and desperately lonely. Does this mean Radu can finally have more with Mehmed . . . and would he even want it? 

Lada's rule of absolute justice has created a Wallachia free of crime. But Lada won't rest until everyone knows that her country's borders are inviolable. Determined to send a message of defiance, she has the bodies of Mehmed's peace envoy delivered to him, leaving Radu and Mehmed with no choice. If Lada is allowed to continue, only death will prosper. They must go to war against the girl prince. 

But Mehmed knows that he loves her. He understands her. She must lose to him so he can keep her safe. Radu alone fears that they are underestimating his sister's indomitable will. Only by destroying everything that came before–including her relationships–can Lada truly build the country she wants. 

Claim the throne. Demand the crown. Rule the world.
I have been waiting for Bright We Burn for almost a year now. I love this series so much because it is super unique. An origin not many have thought about writing before. I have already preordered this one and I am hoping to read it before a week has past since it's release that before I am finished.
---
Fawkes by Nadine Brandes (July 10)
Synopsis

Thomas Fawkes is turning to stone, and the only cure to the Stone Plague is to join his father's plot to assassinate the king of England.

Silent wars leave the most carnage. The wars that are never declared, but are carried out in dark alleys with masks and hidden knives. Wars where color power alters the natural rhythm of 17th century London. And when the king calls for peace, no one listens until he finally calls for death.

But what if death finds him first?

Keepers think the Igniters caused the plague. Igniters think the Keepers did it. But all Thomas knows is that the Stone Plague infecting his eye is spreading. And if he doesn't do something soon, he'll be a lifeless statue. So when his Keeper father, Guy Fawkes, invites him to join the Gunpowder Plot—claiming it will put an end to the plague—Thomas is in.

The plan: use 36 barrels of gunpowder to blow up the Igniter King.

The problem: Doing so will destroy the family of the girl Thomas loves. But backing out of the plot will send his father and the other plotters to the gallows. To save one, Thomas will lose the other.

No matter Thomas's choice, one thing is clear: once the decision is made and the color masks have been put on, there's no turning back.
The cover of Fawkes looks very interesting and the synopsis sounds great. I am curious how Nadine Brandes writes.
---
Notes from My Capticity by Kathy Parks (July 10)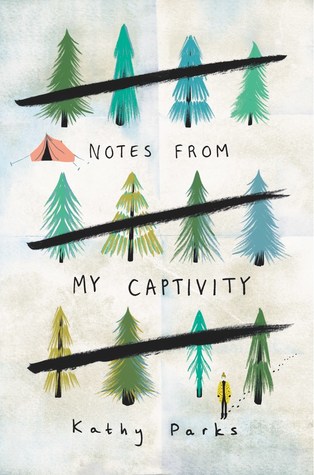 Synopsis

Girl meets boy… and the family holding her hostage.

Adrienne Cahill cares about three things: getting into a great college; becoming a revered journalist like her idol, Sydney Declay; and making her late father proud of her.

So when Adrienne is offered the chance to write an article that will get her into her dream school and debunk her foolishly optimistic stepfather Dan's claim—no, belief—that a legendary family of hermits is living in the Siberian wilderness, there's no question that she's going to fly across the world.

After all, it is the trip of a lifetime.

But the Russian terrain is even less forgiving than Adrienne. And when disaster strikes, nothing—not the flirtatious guide or her stepdad's obsessively detailed preparations—can protect Adrienne from the sheer force of nature. Now, Adrienne's being held captive by the family she was convinced didn't exist, and her best hope for escape is to act like she cares about befriending them, even if it means wooing the youngest son.
Even though Books in Character contains a lot of fantasy books I do also like mystery books and Notes from My Captivity sounds just like a novel that I would like.
---
Spinning Silver by Naomi Novik (July 10)
Synopsis

Miryem is the daughter and granddaughter of moneylenders… but her father isn't a very good one. Free to lend and reluctant to collect, he has loaned out most of his wife's dowry and left the family on the edge of poverty–until Miryem steps in. Hardening her heart against her fellow villagers' pleas, she sets out to collect what is owed–and finds herself more than up to the task. When her grandfather loans her a pouch of silver pennies, she brings it back full of gold.

But having the reputation of being able to change silver to gold can be more trouble than it's worth–especially when her fate becomes tangled with the cold creatures that haunt the wood, and whose king has learned of her reputation and wants to exploit it for reasons Miryem cannot understand.
Uprooted by Naomi Novik was super great and I am very happy to see she is publishing another novel. So you can expect me to try and get my hands on this one soon too. (The same goes for her Tremaire series)
---
Contagion (Contagion #1) by Erin Bowman (July 24)
Synopsis

It got in us

After receiving an urgent SOS from a work detail on a distant planet, a skeleton crew is dispatched to perform a standard search-and-rescue mission.

Most are dead.

But when the crew arrives, they find an abandoned site, littered with rotten food, discarded weapons…and dead bodies.

Don't set foot here again.

As they try to piece together who—or what—could have decimated an entire operation, they discover that some things are best left buried—and some monsters are only too ready to awaken.
Contagion sounds super interesting! A mystery science-fiction, YES give it to me!
---
Heart of Thorns (Heart of Thorns #1) by Bree Barton (July 31)
Synopsis

In the ancient river kingdom, touch is a battlefield, bodies the instruments of war. Seventeen-year-old Mia Rose has pledged her life to hunting Gwyrach: women who can manipulate flesh, bones, breath, and blood.

Not women. Demons. The same demons who killed her mother without a single scratch. 

But when Mia's father suddenly announces her marriage to the prince, she is forced to trade in her knives and trousers for a sumptuous silk gown. Only after the wedding goes disastrously wrong does she discover she has dark, forbidden magic—the very magic she has sworn to destroy.
I am hearing so many good things about Heart of Thorns it makes me very curious to read this even though it will still take a little while before it comes out, but I can wait.
---
Sea Witch by Sarah Henning (July 31)
Synopsis

Everyone knows what happens in the end.
A mermaid, a prince, a true love's kiss.
But before that young siren's tale, there were three friends.
One feared, one royal, and one already dead.

~~~~~~~~~~

Ever since her best friend, Anna, drowned, Evie has been an outcast in her small fishing town. A freak. A curse. A witch. 

A girl with an uncanny resemblance to Anna appears offshore and, though the girl denies it, Evie is convinced that her best friend actually survived. That her own magic wasn't so powerless after all. And, as the two girls catch the eyes—and hearts—of two charming princes, Evie believes that she might finally have a chance at her own happily ever after.

But her new friend has secrets of her own. She can't stay in Havnestad, or on two legs, unless Evie finds a way to help her. Now Evie will do anything to save her friend's humanity, along with her prince's heart—harnessing the power of her magic, her ocean, and her love until she discovers, too late, the truth of her bargain. 
I have been waiting for this book for ages! I heard about Sea Witch around this time last year and I have been super interested in it. Also I heard great things about it and it is something new again.
---
Grace and Fury by Tracy Banghart (July 31)
Synopsis

In a world where women have no rights, sisters Serina and Nomi Tessaro face two very different fates: one in the palace, the other in prison.

Serina has been groomed her whole life to become a Grace–someone to stand by the heir to the throne as a shining, subjugated example of the perfect woman. But when her headstrong and rebellious younger sister, Nomi, catches the heir's eye, it's Serina who takes the fall for the dangerous secret that Nomi has been hiding.

Now trapped in a life she never wanted, Nomi has only one way to save Serina: surrender to her role as a Grace until she can use her position to release her sister. This is easier said than done. A traitor walks the halls of the palace, and deception lurks in every corner. But Serina is running out of time, imprisoned on an island where she must fight to the death to survive and one wrong move could cost her everything.
I am curious about Grace and Fury, it sounds great, but I am hoping that it doesn't disappiont because that has been a little bit of a trend these days.
---
The Cheerleaders by Kara Thomas (July 31)
Synopsis

There are no more cheerleaders in the town of Sunnybrook.

First there was the car accident—two girls gone after hitting a tree on a rainy night. Not long after, the murders happened. Those two girls were killed by the man next door. The police shot him, so no one will ever know why he did it. Monica's sister was the last cheerleader to die. After her suicide, Sunnybrook High disbanded the cheer squad. No one wanted to be reminded of the girls they lost.

That was five years ago. Now the faculty and students at Sunnybrook High want to remember the lost cheerleaders. But for Monica, it's not that easy. She just wants to forget. Only, Monica's world is starting to unravel. There are the letters in her stepdad's desk, an unearthed, years-old cell phone, a strange new friend at school. . . . Whatever happened five years ago isn't over. Some people in town know more than they're saying. And somehow Monica is at the center of it all.

There are no more cheerleaders in Sunnybrook, but that doesn't mean anyone else is safe.
Another mystery. The Cheerleaders has been on my list for a little while and I am still sure I am looking forward to reading it. I really would like to know what happend.
---
Let me know what you thought of these books!
If you have any requests for which book I should talk about next, please let me know in the comments down below.
For now, let books enrich your life!